Best Dehydrated Dog Food - Comparison and Reviews
As a pet owner, you want to feed your dog the best quality food possible. Once you start shopping around, however, you'll quickly realize that finding the right dog food is more difficult than you may have expected.
From raw to dry to wet dog food, the choices are endless, and it's difficult to know what is best for your canine friend 🐕.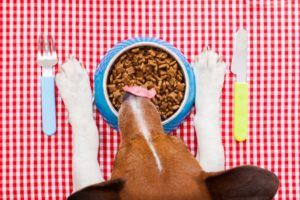 One of the newest options on the market is dehydrated dog food, which combines the nutritional benefits of a raw diet with the convenience and cleanliness of dry food.
Since it's an emerging market, it's difficult to know which dog food brands offer a complete diet with the right nutrition profile for your dog, filled with maximum protein and fats.
We've assessed some of the most popular dehydrated dog foods and evaluated them on your behalf. We looked for variety and a complete nutrition profile, including fruits and vegetables, fats, grain, and protein 🐾. 
Best Dehydrated Dog Food 2023 - Reviews
1. Wellness Core Air Dried Grain Free Natural Dry Dog Food
While many dehydrated dog food products will contain some grain, Wellness Core's dehydrated food is completely grain-free, which is perfect for dogs with these types of allergies or sensitive palates. Instead, it's made up of 70 percent turkey and chicken and 30 percent nutrient-rich vegetables, including spinach, broccoli, and kale. The unique formulation is protein-rich and is suitable for active dogs that require additional protein in their diets.
Unlike other dehydrated dog foods, Wellness Core doesn't arrive in powder form and doesn't need to be reconstituted in water. Instead, you can feed it just like you would with kibble, which makes it one of the more convenient products we have reviewed. You can also mix it with other Wellness Core products to stop your dog from growing bored with the same meal each day.
Many people also use Wellness Core products as treats instead of meals. The pieces are small and chewy, and they're an excellent on-the-go treat that doesn't need to be crumbed. It's excellent for people who train agility dogs and who require extra protein in their pet's diets.
2. Stella & Chewy's Freeze-Dried Raw Dog Food
Stella and Chewy's raw food offer a wide range of meat-based freeze-dried recipes to suit even the fussiest dog's tastes. From rabbit to duck, venison, and lamb, there's a flavor here that will pique even the pickiest dog's interest. All their meat is responsibly sourced, mostly from the United States.
Maintaining their high standard of quality, Stella and Chewy's dog food is made in small batches that are quality-controlled and minimally processed. While taurine and probiotics are added during the production process, the dog food doesn't contain any additional hormones, preservatives, or antibiotics.
It's also freeze-dried to preserve the nutrients found in the vegetables and meats used, meaning that the food is completely balanced for most dogs.
Stella and Chewy's freeze-dried dog food is an excellent way to achieve the benefits of feeding raw ingredients with the convenience of dry food. Raw feeding promotes improved digestion, a shinier and softer coat, and healthy teeth and gums.
3. Primal Freeze Dried Dog Food
Primal aims to provide a complete and balanced diet for dogs in all life stages. They source their ingredients from farms and ranches all over the United States and New Zealand, ensuring that the ingredients are all 100 percent human-grade. Primal supplements the meat and vegetables with ground bone for calcium, certified organic minerals, and unrefined vitamins to provide your dog with a balanced and healthy diet.
The dog food is free from grains, soy, and corn, so it's perfect for dogs that are allergic to these ingredients. While Primal freeze-dried dog food can be used as a whole meal for smaller dogs, it is costly for the owners of larger dogs to go this route. You will either have to pay a small fortune to keep your dog fed or use this product as a topper over their regular kibble recipes.
Primal dog food is an excellent way to get the maximum benefits of raw food without the mess and effort associated with this kind of diet.
4. The Honest Kitchen Human Grade Dehydrated Grain Free Base Mix Recipe for Dogs
If you want a bit more control over your dog's diet, but still want them to have all the vitamins and minerals they need, it's worthwhile considering Honest Kitchen's dehydrated base mix recipes. These antioxidant-rich base mixes contain plenty of freeze-dried vegetables and fruits, supplemented with the various vitamins and minerals your pet needs to thrive. It's also grain-free and contains no animal by-products, preservatives, or GMOs. All you need to do is add some water and fill it up with the protein of your choice.
The Honest Kitchen only uses human-grade food in their products, ensuring that you get premium, high-quality food that is as good for your dog as it would be for your body. The gentle dehydration process results in food that is nutrient-rich, tasty, and easily digestible. It can also help alleviate digestive issues in sensitive dogs that are allergic to traditional protein sources since you can supply your own source of meat.
The Honest Kitchen has a reputation as one of the premier brands of raw and dehydrated dog food, primarily due to its commitment to maximum quality and product integrity. The company was originally founded in a kitchen, and they still make an effort to ensure that each batch of dehydrated food is perfect.
5. Honest Kitchen Human Grade Dehydrated Organic Grain Chicken Dog Food Box
Developed for both puppies and adult dogs, the Honest Kitchen dehydrated range contains everything your dog needs for a healthy life. The recipe contains five main human-grade food ingredients, including organic chicken, barley, flaxseed, oats, and potatoes. These are mixed together and then dehydrated gently to retain flavor, nutrition, and color.
The recipes are supplemented with many other natural vegetables and fruits, as well as organic kelp and additional vitamins and minerals. The combination of ingredients is designed to maintain your dog's good health.
There are no by-products, preservatives, or GMO ingredients to be found in Honest Kitchen's dehydrated foods, making it easy to digest for even the most sensitive of dogs.  The combination is easily digestible and comes from human-grade sources, so you know your dog is eating quality food that you could eat, too.
The Organic Chicken dog food box is higher in proteins and calories than other Honest Kitchen recipes, which makes it the ideal food for growing puppies and active dogs that need more calories than seniors or inactive pets. It's also palatable (Honest Kitchen test each batch themselves), so even fussy dogs will happily dig in and enjoy a nutritious meal.
It is important to note that recent reviews of the product haven't been encouraging, and some dogs have become sick. As with any new item that you feed your dog, consult with a veterinarian first, and monitor your animal for any signs of ill-health.
6. Dr. Harvey's Canine Health Miracle Dog Food
Dr. Harvey's is a blend of six grains and nine vegetables that have been dehydrated to preserve their nutrition, color, and taste. It isn't a fully finished meal, and you'll have to add your own meat and oil to the bowl. The entire process takes only eight minutes, though, which removes some of the convenience associated with dehydrated dog food.
The main benefit of using Dr. Harvey's blend of vegetables and grains is that you can control the quality and quantity of the protein that you use while still ensuring that your dog has all the vitamins and minerals they need. Since there are no dyes, preservatives, or fillers in Dr. Harvey's mix, you have control over what your dog is eating.
Every ingredient found in Dr. Harvey's mix is produced in a human-grade food processing facility that is closely monitored and control. You can rest assured that this healthy dog food is produced to the highest standards of food safety and food quality.
7. Spot Farms Human Grade Dog Food
The Spot Farms natural dehydrated dog food is made with human-grade food ingredients and uses only cage-free chickens and turkeys sourced from North Carolina. As an added benefit, Spot Farms adds extra probiotics to aid your dog's digestive health. You can easily tailor the food to your dog's preferences by changing the amount of water that you add to their meal.
Some dogs, especially those who are struggling to chew, will prefer a soupier mix, while other dogs will savor a thicker texture. Spot Farms dog food can be used either as a whole meal or as a supplement to the existing diet. It is formulated according to AAFCO dog food nutrient profiles for canines in all life stages, so you can use it from puppyhood all the way to their old age.
Spot Farms dog food comes in several different flavors and formulations. Apart from the standard chicken-based food, the company offers a variety of other flavors and even have one developed for dogs with joint and mobility issues. No matter what age, breed, or condition your dog is in, Spot Farms will have a healthy food option for you.
8. Dr. Harvey's Raw Vibrance Dog Food
Some dogs have allergies to common protein sources or grain and feeding these dogs can be a real challenge. By using a pre-mix, such as Dr. Harvey's Raw Vibrance freeze-dried base mix, you can ensure that your dog receives a balanced diet without any surprise ingredients that can negatively affect your pet.
Dr. Harvey's dog food brand is well-known for its high-quality raw dog food that provides the nutritional benefits and care your adult dog requires. Dr. Harvey's mix is made of nine dehydrated vegetables, two dehydrated fruits, two seeds, and bone meal and crushed eggshells as a source of calcium. It's fortified with nine superfoods to provide your dog with all the vitamins and minerals they need to thrive.
Preparing your dog's meal is a simple process with the base mix. Add hot water to the mix and then throw in your choice of protein and oil. It's an excellent option for dogs with allergies or picky eaters that require constant variety in their diet.
Dr. Harvey's provides advice and a handy calculator on their website to help you estimate how much it would cost to feed your dog with dehydrated food. The article considers factors like the dog's weight, age, and activity levels. It's an amazing tool to help you budget whether or not Dr. Harvey's is the best dehydrated food option for you.
9. Sojos Complete Natural Freeze-Dried Natural Raw & Dehydrated Grain-Free Dog Food
Sojos offers a variety of flavors in their dehydrated dog food range, including USDA-inspected beef, goat, lamb, chicken, turkey, and pork. It is also GMO-, soy-, grain- and gluten-free, with no added salt or sugar. It is only natural fruits and vegetables and high-quality meat in a convenient package.
The freeze-drying process ensures that every bit of goodness is locked in, so your dog will receive all the vitamins and minerals they need, regardless of their life stage or breed. Sojos will help you administer all the benefits of a complete and balanced raw feeding diet without the hassle, such as excellent skin and coat, fewer allergies, and a healthier digestive system. You won't have to spend the energy and effort usually required for a raw food diet, either.
As a caveat, there have been some recent reviews that suggest the previous formula has changed. There has been much debate as to whether this apparent change has increased any risk factors or changed the quality of the food.
10. Ziwi Peak Air-Dried Dog Food Recipe
Ziwi uses a centuries-old slow air-drying method that is gentler and more natural than freeze-drying. It is a fresh approach that locks in nutrients and flavor without the need for extra preservatives or chemicals that may adversely affect your pooch. Each Ziwi recipe uses up to 96 percent meat, organs, and bones, with the rest of the mix made up of dehydrated superfoods, such as organic kelp and green tripe.
Ziwi is a commercial New Zealand-based dog food brand, and all its ingredients are ethically sourced from the best free-range farms and fisheries around in the country. The products contain no added hormones, antibiotics, or growth promotions, focusing on naturally nutritious and delicious foods.
Taurine is important for dogs and cats alike, and it's an essential amino acid that is required to promote heart health. Ziwi air-dried food contains higher taurine levels than average dog food products, helping to promote a healthy cardiovascular system, improved digestion, joint health, and weight management. It offers an excellent alternative to raw feeding, canned food, or kibble.
How to Choose the Best Dehydrated Dog Food
If you've been relying on canned food or kibble for your dog, you may have found that while they get a nutritionally balanced meal, there are few other benefits, apart from convenience. The raw food movement aims to combine raw meat and vegetables for a healthy and complete meal that dogs love to eat.
There are many benefits to feeding raw pet food, including healthier skin and coat, improved digestion and mobility, and even helping to control certain allergies. The main drawback of preparing raw meals for your dog is that it's messy, time-consuming, and a research-intensive search to ensure your pet has the right amount of protein, fats, minerals, and vitamins.
Freeze-dried or dehydrated dog food offers an exciting alternative that has the advantages of raw feeding but is also much easier to prepare. The best dehydrated dog food will provide your dog with the benefits of raw dog food stocked in the convenience of kibble.
As with any major dietary change, you need to do your research before switching over to dehydrated food. There are many products on the market that sound amazing, with high-quality ingredients almost good enough for human consumption. Before you choose the first product on your shopping list, make sure you've taken a closer look at what the best raw dog food contains, and apply the range of criteria to selecting dehydrated raw food.
What to Look for in Dehydrated Dog Food
Human Grade
When you're looking for the best dehydrated dog food, one of the best indicators of quality is the grade of the ingredients. Since dehydrated and freeze-dried foods retain the quality of the original food, you can't mask poor-quality by grinding up into kibble. Human-grade ingredients are the maximum quality possible, usually produced in places where quality control and inspections by the FDA are mandatory.
By using the best human-grade ingredients, dog food brands ensure they offer the best product possible.
Whole Foods
Whole foods undergo far less processing than other foods. Processing includes heating, which can destroy much of the nutritional value, especially of fruits and vegetables. Dog food brands that use mainly whole foods in their recipes are more likely to be serious about quality control and provide maximum value for money for your pet.
No Animal Meal
Animal meal is produced by a process known as rendering. Rendering is when the leftover parts of slaughtered animals are placed into vats and cooked for several hours, separating the fat from the rest of the carcass. It kills off any bacteria, parasites, and viruses.
Once the process is done, the fat is called 'animal fat' and used in pet foods. The remaining carcass goo is dried and ground for animal meal. While the animal meal is often used in the pet industry, it's the lowest quality protein source available. If you're looking for the best dog food, raw or dehydrated, stick to lean meats and organs, and avoid animal meal.
Minimal Processing
One of the aims of raw dog food is to provide your dog with a diet as close to a natural one as possible. Avoid processing, such as cooking or rendering, which destroys much of the nutritional value of the original ingredients. Many raw and dehydrated pet foods rely on minimal processing for their ingredients, apart from the dehydration or freeze-drying processes.
Nutritional Value
The quality of pet foods in the United States is controlled by the Association of American Feed Control Officials or AAFCO. One of the main aspects is whether food is nutritionally balanced and the ingredients.
As dogs age, their nutritional needs change, so it's vital to use pet food appropriate for your dog and their current needs. Many reputable brands state that they abide by AAFCO requirements for nutritional value, and it's a good idea to only purchase from these pet food brands.
Also Read: How is Dehydrated Dog Food Made
FAQs
What is better, freeze-dried or dehydrated dog food?
There are many ways to produce dehydrated food. While these methods are similar and will all provide your dog with a nutritious meal, there are some differences to consider. No one method is used by all the best dehydrated dog food manufacturers, so it will ultimately be an individual preference.
·        "Freeze-dried" is when all the moisture is removed from food while it is still frozen. The main advantage is that because the food remains frozen, the nutrients remain intact, and pathogens can't breed in it. Freeze dried puppy treats are used in training as well and loved by dogs of all ages.
·        "Dehydrated" involves the application of gentle heat and pressure to remove moisture. It's different from cooking because the heat is low and doesn't affect the nutritional value of the ingredients. Most dehydrated dog foods need to be rehydrated in water before serving.
·        "Air-dried" is the slowest method and relies on food being dried gently by the air. It prevents pathogens from sneaking through by being air-dried multiple times. Air-dried foods can be given directly to your dog without the need for reconstitution in water.
Is dehydrated meat good for dogs?
Dehydrating meat is an excellent idea for dogs. Not only does it make the meat tastier, but it also helps kill off any bacteria on the meat's surface. Freeze-dried or dehydrated raw meat is a high-quality treat for any dog.
Is dehydrated chicken good for dogs?
As for meat, dehydrated chicken is an excellent option for your pooch—as a treat or an addition to their overall diet. It retains most of the nutritional value after being dehydrated and is a useful option in persuading fussy eaters to have a bit of extra protein.
Is dehydrated dog food expensive?
While you may be initially put off by the price of dehydrated raw food, you should be aware that the best dehydrated dog food produces four times as much food per pound. One pound of dehydrated food can be reconstituted to produce up to four pounds of delicious, ready-made food for your pooch, especially when it comes to recipes from top dog food brands.
It makes the best dehydrated dog foods a solid option for the budget-conscious individual who wants to feed their dog the best food possible.
It should be noted that air-dried foods that don't need to be rehydrated don't offer the same benefits. These foods are given as-is, so the weight you see is the final figure. Remember that even air-dried dehydrated food shrinks as it dries, though, so you receive a more concentrated dose of maximum nutrition than you would with kibble or raw food of similar weight.