Best Dog Food for Bulldogs - Comparison and Reviews
With a wide girth and trademark wrinkled skin, bulldogs make wonderful and loving pets. Bulldogs were first introduced to help butchers before being bred for now banned blood sports and dogfighting.
With this medium-sized breed, you'll get a variety of heights, but their weight tends to fall between 40 and 50 pounds for adult dogs.
Although bulldogs make a fabulous addition to the family, they will need a degree of special care. They tend to attract a range of health problems, but one effective way to combat this is to ensure they have the right diet for their needs.
With plenty of protein, moderate carbs, and carefully controlled fat intake, you've got a solid foundation to help your dog maximize their lifespan. 🐕
Grain-free diets can work well since bulldogs are prone to allergies. Prebiotics, probiotics, and chelated minerals all ease digestion.
You should look to eliminate cheap bulking agents and artificial additives in your bulldog's food.
In this article, we will outline the five best dog foods for bulldogs then round out with some handy hints to streamline your buying decision further. 🙂
We'll get right down to business now with those reviews.
Best Dog Food for Bulldog 2023 - Reviews
1. IAMS Proactive Health Adult Dry Dog Food
IAMS Proactive Health comes recommended by veterinarians, and it's filled with healthy, natural ingredients, but what makes it ideal for your bulldog?
First, your dog will get all the protein he needs to keep those muscles rippling. Not all protein is equal, though. This Healthy Weight formula makes use of farm-raised chicken to give your dog everything he needs and nothing he doesn't.
The other main area where this formula caters to bulldogs is its reduced fat content. Weight management can be problematic with bulldogs, so make sure your dog doesn't take too much on board.
Throw in plenty of essential nutrients and enough carbs from quality sources, and your dog will have the energy to keep going all day long without packing on the pounds. The best ingredients are of no use if your pet struggles to take them down. This formula should slide right down, and all the ingredients are easily digestible.
As well as being packed full of all the goodness your dog needs, no nasty artificial additives are ruining the hard work. You'll get none of the cheap filler that blights much commercial dog food, and IAMS is not riddled with preservatives and flavorings either.
Give your bulldog a real treat with this high-protein, low-fat formula that will have him devouring every mouthful and eager for more.
2. Blue Life Protection Formula Adult Dry Dog Food
Blue dog food has a hard-won reputation for producing natural and nutrient-rich dog food with no artificial additives and featuring real meat as the first ingredient.
There are no corn, wheat, soy or meat by-products either. With the best dog food, what's not in the formula is equally as important as what is included.
The Life Protection formula comes with Blue's proprietary LifeSource Bits. More than just a marketing gimmick, these pieces are designed by vets and animal nutritionists to encourage immune system health and oxidative balance. They're stuffed with vitamins, minerals, and antioxidants to achieve this.
The protein comes from real chicken.  The carbs come from brown rice and sweet potatoes. Blueberries and cranberries add nutrients and taste while you'll also find peas, carrots, and flaxseed. With relatively little fat in this formula, you've got all you need in food for your bulldog from a brand upon which you can rely.
Blue brand might not be cheap, but with healthful whole grains, fruit and vegetables, and no corn, soy, or cheap, low-quality filler, it provides an outstanding overall value.
Pros
Real meat is the first ingredient giving your bulldog the shot of top-notch protein he needs
Rich in omega-3 and omega-6 fatty acids to promote a soft, silky coat and healthier skin
LifeSource Bits complement the kibble and give your precious pet antioxidants and nutrients in abundance
Cons
A few complaints about the amount of powder in the bags
3. Royal Canin Adult Bulldog Dry Food
While many dog food brands benefit bulldogs, Royal Canin has gone one step further and created a formula that's designed specifically for this lovable breed.
The first personalized touch is kibble that's shaped to make it simple for your dog to chew and swallow. Your dog will find it easier to pick the food up.
The protein sources were chosen to be easily digested by your bulldog.
Top-notch carb sources will energize your dog for the day. Even better, there's an inbuilt kicker, and you should also notice a dramatic improvement in stool odor and gas issues.
Also crucial for your beloved bulldog, the nutrients in this formula strengthen the skin barrier meaning healthy skin and wrinkles for your pet.
EPA and DHA at just the right levels encourage bone health, and they're also beneficial for weight management.
As you'd expect, this specialty formula doesn't come cheap, but in return, you'll get one of the very best dog foods for bulldogs on the market.
Pros
Proteins are highly digestible so you should notice less gas and reduced stool odor
The formula contains EPA and DHA to help with your bulldog's joint and bone health
Kibble shaped with a bulldog's jaw structure and biting patterns in mind
Cons
Certainly not one for bargain-hunters but a solid value despite the stiff price tag
4. Wellness Complete Health Natural Dry Food for Bulldog Puppy
The Complete Health line from Wellness is one of the best inexpensive dog foods for bulldogs that doesn't compromise quality. What makes it so good?
Your bulldog puppy will get a good dose of 29% protein from deboned chicken. Blueberries and spinach are both packed with powerful antioxidants while flaxseed is ideal for skin and coat health, too.
With prebiotics, probiotics, and chicory root, your pup's digestion should run smoothly.
The ingredients are of consistently high quality. The formula does not contain soy, corn, fillers, or by-products. You will treat your bulldog puppy to nothing but natural, nutrient-packed food with this brand choice.
Wellness Complete Health is designed to do just what the name promises. Along with healthy muscle growth and overall vitality, this nutrient-laden formula also helps with teeth and bone strength and even brain development. If you want to give your bulldog the best start in life, why not give this dry puppy food a try?
Pros
Premium natural ingredients with no cheap, ineffective filler to start your pup's life the right way
Deboned chicken delivers lean protein and valuable fatty acids
High antioxidant count which can help with skin and coat quality
Cons
You'll need to switch gradually to this puppy food to avoid diarrhea using a blend of 25% new food to 75% old food
5. Blue Life Protection Formula Puppy Food
Blue's dog food always comes with real meat as the first ingredient, so you're off to a great start. In the case of this puppy food, that happens to be real deboned chicken so you can begin building up your bulldog's muscles right from the outset.
An all-natural food, you won't need to worry about all those cheap and inferior quality fillers. The last thing you need is to start a puppy out in life with a low-caliber food with insufficient nutrients.
This formula provides ample nutrients, though. You'll even get ARA and DHA, fatty acids present in a mother's milk.
As well as that real meat, Life Protection Formula contains healthy grains like brown rice and a range of fruit and vegetables serving up your puppy all the goodness he needs.
For a perfectly balanced food that will give your bulldog puppy a flying start, Blue delivers once again.
How to choose the Best Dog Food for Bulldogs
When you're selecting any dog food, there's almost too much choice. It's easy to lose your way and get confused. With bulldog food, you'll also have a few other factors to consider, so we'll highlight those for you now.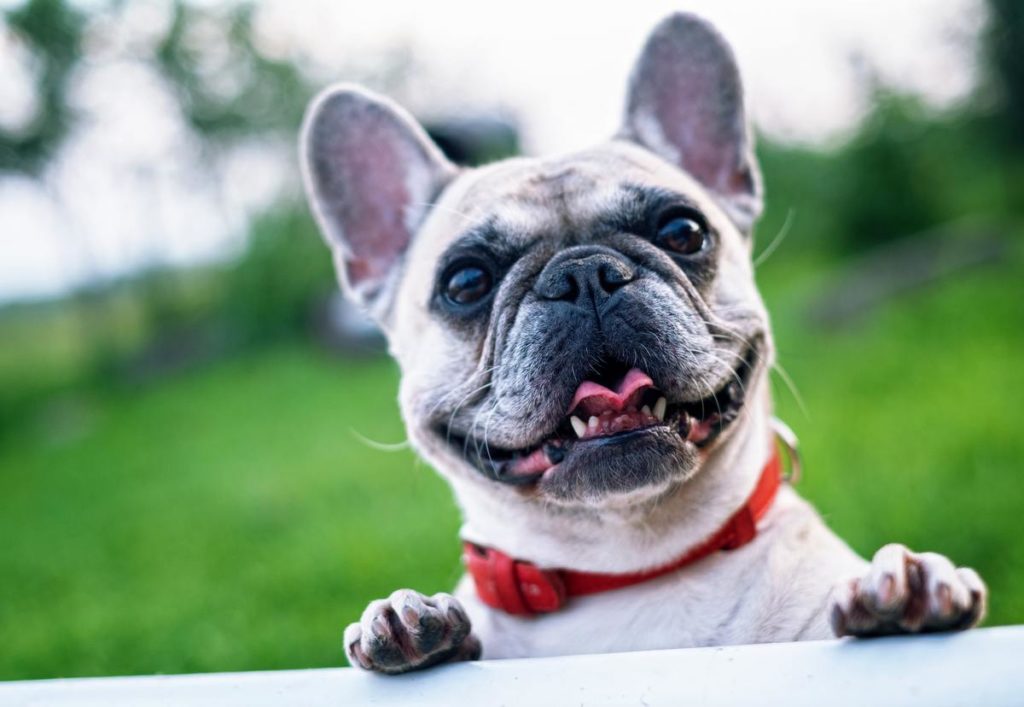 What Things to Consider when Buying Food for Bulldogs
Related: Best Dog Food for Large Breed
When you're choosing the best bulldog food, you should factor these three broad areas into the equation:
Nutritional Needs of Bulldogs
Life Stage of Bulldog
Bulldogs Health Conditions and Special Dietary Needs
Nutritional Needs of Bulldogs
The quality of the food you serve your bulldog is vital since they have a heightened risk of allergies.
Fresh food is ideal as this comes closest to mirroring a raw, natural diet.
If you find fresh food too pricey, a good quality kibble consisting of natural ingredients with no cheap filler works well and is less expensive.
For any bulldogs with allergies or sensitivities, a grain-free diet is the best option. Failing this, look for a limited ingredient formula reducing the chance of your dog becoming irritating.
You also need to think carefully about macronutrients (protein, carbs, and fat) as well as other essential nutrients, vitamins, and minerals.
Proteins: For bulldog puppies, protein provides a foundation for healthy muscle development. As your pup becomes an adult, protein serves to maintain lean muscle mass. You should ensure your puppy gets a minimum of 22% protein. You can pull this back slightly to a minimum of 18% in adult bulldogs.
Carbohydrates: As well as energizing your bulldog, carbs also give him the fiber and other essential nutrients he needs to thrive. Not all carbs are the same, though. Opt for digestible sources like vegetables, whole grains, beans, or legumes. Fiber content should be roughly 5% with prebiotic fiber preferable.
Fats: Bulldogs need a diet with relatively low-fat content. 8% of fat content is enough for a puppy while adult dogs need only 5% fat, or they'll start putting weight on to their detriment. While fat can give your bulldog a highly concentrated energy source, too much of it leads to an overgrowth in puppies and outright obesity in adults.
Vitamins and Minerals: Look for minerals labeled chelated. Chelated minerals are attached to protein molecules enabling your dog to better absorb and benefit more fully from them. Chondroitin and glucosamine help support the bones and joints.
Fiber: 5% fiber content with prebiotic fiber is the best option that completes a balanced and bulldog-friendly diet with little effort required.
How about different life stages, then? What are the differences in feeding requirements as your dog ages?
Life Stage of Bulldog
Puppy: You can feed your bulldog puppy a little more with a trio of daily meals, but you still need to keep a close eye on fat content. Read our puppy food guide for more details related to puppy foods.
Adult: As your bulldog becomes an adult, he'll need just two meals a day rather than the three required to strengthen a puppy. Make sure your bulldog doesn't start packing too much weight on, as this can be extremely damaging to the overall health of this breed.
Senior: The older your bulldog gets, the higher the risk of obesity. Weight management is a serious issue that needs close monitoring. Consider trying out a senior dog food recipe, a low-fat or healthy weight formula when your dog is in his golden years.
Bulldogs Health Conditions and Special Dietary Needs
As we mentioned earlier, bulldogs are somewhat prone to developing a range of health conditions unless closely monitored. While we're sure you're aware of this if you're a bulldog fan, the leading health issues and related dietary needs are worth outlining.
Bone and Joint Health: Bulldogs are quite likely to develop problems with bones and joints, so what can you do to prevent this? Look for chondroitin and glucosamine in formulas as both will help support bone and joint health. Chondroitin is a chemical typically found in the joints and cartilage that can be used to ease joint pain. Glucosamine is an amino sugar that works well to strengthen bulldog bones. These two supplements both help to reduce the risk of arthritis, too.
Healthy Skin and Coat: To keep those wrinkles in excellent condition and overall skin and coat health high, make sure your bulldog's diet is protein rich. A dog's coat is 95% protein so load it up with all the high-quality animal protein it needs to flourish.
Digestive Health: Chelated minerals – minerals attached to protein – give your dog the best chance of taking all these nutrients on board. Prebiotics and probiotics in the formula also encourage proper digestion.
Food Allergies: Bulldogs are quite likely to develop allergies, so it might be that grain-free food becomes your best option. Limited ingredient formulas are effective since, with fewer ingredients, there's less chance your dog will become irritated.
Weight Management: Follow our guidelines above, and you should have no real problems maintaining your bulldog's weight. Make sure you drop down to just two meals a day when your puppy becomes an adult and ensure there's not too much fat in the formula. If you don't overfeed your dog and exercise him regularly, there's no need to allow him to become obese. Also Read: Best Dog food for Obese Dogs
FAQs
How much should you feed a bulldog puppy?
The ideal for a bulldog puppy is three small meals a day. This will encourage optimum growth and development.
How much should you feed an adult bulldog?
As soon as your bulldog hits 75% of his adult size, dial back to two meals a day. If you give a bulldog too much food, you risk overloading his bones and joints, leading to problems in later life. Feed him once in the morning and again in the evening.
When should bulldogs switch from puppy food to dog food?
As mentioned above, when your puppy reaches 75% of his adult size, it's time to change up from puppy food to dog food while also reducing the number of daily meals.
Do bulldogs need vitamins?
Bulldogs certainly benefit from vitamins and minerals. Since you typically don't change your dog's food often, deficiencies can develop if they consistently eat the same thing. Formula with ample vitamins and minerals ensures they won't miss out on the essentials for coat and skin health as well as vitality and overall health.
How can you minimize the effect of gas?
Bulldogs can produce unpleasant gas, especially if they eat the wrong type of food. Look for real meat as the first ingredient and avoid corn if it all possible. If corn is present, ensure it's not one of the first three ingredients. If you ensure to provide your bulldog with the proper food you should notice an improvement in terms of the frequency and unpleasant odor of the gas produced.