Best Dog Food for German Shepherd - Comparison and Reviews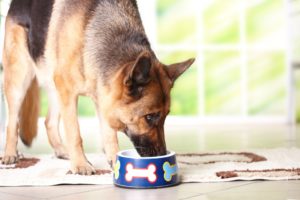 In this article, we have reviewed the best dog foods for German Shepherds, along with the relevant information about the nutritional needs of this revered dog breed. If you are planning to introduce this wonderful canine to your home, or you already own one, this article will help you find the best food for your beloved pet.
Our Top Rated German Shepherd Food
Best Dog Food for German Shepherd 2023 - Reviews
Eukanuba German Shepherd Dog Food has high quality animal based protein, glucosamine, and chondroitin sulfate, which helps to build lean muscles and keep the joints agile. Eukanuba is best for German Shepherds to gain weight and develop strong and lean muscles. It has optimum protein to fat ratio that wouldn't allow an active German Shepherd to become overweight and bloat. The high quality Protein, Fats, and Carbohydrates in this dog food would promote healthy weight gain and provide enough energy to support German Shepherds active lifestyle.
EUKANUBA also includes a specialized fiber system to promote healthy digestion. It is excellent for German Shepherds with sensitive stomach, gas and diarrhea issues.
Eukanuba dog food would clear up gastrointestinal issues after a few weeks of usage. Your German Shepherd's diarrhea would be eliminated and the stool quality will be consistent. Their skin and fur would also be radiant and shiny.
Purina Pro Plan Focus Sensitive Skin & Stomach is excellent for German Shepherd's sensitive stomach and skin. Real meat, salmon, is the primary source of protein and #1 ingredient in the list. It is available in a variety of options including dry and wet dog food.
German Shepherds are predisposed to developing food allergies. Their skin can show the signs of inflammation and turns itchy and red. It's important that the dog food is highly digestible and contains nutrients that improve the health of German Shepherd's skin and coat.
Purina Focus has a highly digestible formula with prebiotic fiber that nourishes the beneficial bacteria in the dog's intestine to promote his digestive health. The ingredients also contain carbohydrates like Rice that are gentle on the stomach and easy to digest for German Shepherds.
While Linoleic acid and zinc, in nutrient-rich Purina, nourishes the skin and coat of German Shepherds. You will observe, after a few weeks on Purina Focus dog food, your German Shepherd has shiny and healthy skin.
Royal Canin German Shepherd Dry Dog Food comes in two sizes, a 17-lb, and a 30-lb bag. Royal Canin has good nutritional value i.e. 22% protein and 17% fat. The food has maximum values as well, which are at 10% for moisture and 5.5% for fiber. It is important to note that this dog food type is intended for adult German Shepherds, specifically aged 15 months or older.
The specific advantages of this dog food are in the custom-designed shape of kibbles for easy chewing and avoiding plaque. It facilitates improved digestive health due to easily digestible proteins and fibers included in the ingredients.
High levels of Glucosamine and Chondroitin are also included to support the large and powerful physique of German Shepherds. Glucosamine and Chondroitin also promote good joint health and helps against arthritis and hip dysplasia.
Blue Buffalo is a company that focuses on producing high-quality dog food that comes from 100 percent natural ingredients. The fourth product on our list is their Life Protection Formula Senior Dog Food. The product line has ingredients that should preserve the health of Senior German Shepherd dogs and improve their quality of life as they get older.
Blue Buffalo dog food always includes real meat, and there are no chicken byproducts in it. Even more impressive is that Blue Buffalo specifically excludes corn, wheat, and soy from their dog food products, all of which are vital for German Shepherds that suffer from food allergies. There are also no added preservatives or artificial flavors. Many dog owners have commented that their aging German Shepherd stomach issue resolved after shifting to Blue Buffalo senior dog food.
Blue Buffalo also contains glucosamine and chondroitin to support joint health and mobility in older dogs. It is the best dog food for German Shepherd with hip dysplasia and arthritis. There is a high percentage of Bone and Joint supplements in the ingredients of Blue Buffalo.
Royal Canin German Shepherd Puppy Food caters to the nutritional needs of German Shepherd puppies 8 weeks to 15 months old. Like the adult version of Royal Canin, it is a breed-specific puppy food with ingredients that match the nutritional and health needs of the German Shepherd breed.
Royal Canin the best puppy food for German Shepherds with an overall balanced energy content to help puppies gain and maintain an ideal weight. It has a complex antioxidants including Vitamin E to support puppies immune system development along with a strong growing body. Other nutrients in the Royal Canin like Phosphorus, Calcium, Glucosamine, and Chondroitin develop healthy bones structure of German Shepherd puppies.
Royal Canin also features specifically designed kibble for German Shepherd puppy. The kibble is easy for puppy to pick and chew. Optimum kibble size help puppies breakdown their food before swallowing and promote good digestion.
How to Choose the Best Dog Food for German Shepherds
German Shepherd is a large breed that is active and strong, with a muscular physique. Large Breed Dog food is special because it helps to maintain long-term health and quality of life, especially taking into account the common health conditions that plague the breed. German Shepherd food is almost similar to other breeds like Rottweiler, Labrador, Golden Retriever, Pitbull, etc.
It is critical to study the ingredients of the food you are planning to buy carefully, and analyze the key nutrients for your dog. Most ingredient lists will also identify potentially harmful ingredients or allergens.
Things to Consider When Buying German Shepherd Food
Nutritional Needs of German Shepherd
High Quality Protein: GSD need a healthy dose of at least 22% high-quality protein in their diet to grow and maintain their impressive physique. Protein should come from animal sources, such as chicken or beef. It should avoid contamination by animal byproducts, added flavors, and preservatives.
Fats: A high amount of fat can cause your GS to be overweight. At the same time, fats are necessary for healthy skin coat, bones and joints and to lubricate internal systems. According to AAFCO, your German Shepherd should have about 15% – 30% animal-based fats in its dog food.
Carbohydrates: GSD should have about 5% – 8% carbohydrates in dog food. The best sources of carbs for dogs are rice, barley, sweet potatoes, and oats. Carbs are necessary because GSD are protections dogs and need high amount of energy. Carbs along with proteins are the best energy sources.
Vitamins and minerals: These nutrients promote healthy brain activity in dogs and improve the overall health of German Shepherds. These actually constitute a small amount in dog foods.
Fiber: The fiber in the diet creates a healthy texture in the stool, which is especially important for German Shepherds who are prone to perianal fistulas.
Life Stages of German Shepherd Dogs
Puppy: German Shepherds are large dogs with prolonged puppyhood compared to smaller breeds. While they are puppies, German Shepherds require nutritious food that will enable them to grow quickly and develop their robust physique.
Adult: During their adult life stage, German Shepherds require a balanced diet rich in protein to maintain their physique and active lifestyle.
Senior: Older German Shepherds can be quite sensitive to food and develop several health conditions. Food for senior dogs should include plenty of vitamins and minerals that enhance brain activity, as well as probiotics and antioxidants that improve digestive health and immune system.
German Shepherd Health Conditions and Special Dietary Needs
German Shepherds might be a picture of strength and power, but as a breed, they suffer from many health conditions that can decrease their lifespan and quality of life. Most of these conditions are congenital, and they are out of control of the owners. Do consider getting pet insurance for German Shepherd as medical bills can add up significantly.
Bones and Joints: When it comes to bone and joint health, German Shepherds suffer from hip dysplasia, which is common in large dogs. As they age, German Shepherds are also known to develop osteoarthritis. Dog food rich in glucosamine and chondroitin improves joint and bone health and should be high on your priority list.
Skin and coat: German Shepherds have a long coat of hair, but their skin is quite sensitive. For the maintenance of a shiny coat and clear skin, avoid dog foods that are rich in allergens, and make sure the food contains essential fatty acids.
Digestive system: German Shepherds have sensitive stomachs and are prone to bloating and gas. Dog foods rich in live probiotics helps improve the digestive health of German Shepherds and boosts their immune systems.
Allergens: Notorious for food allergies, German Shepherds can develop several serious health conditions if they are fed food that is high in allergens. Your priority should be to avoid dog foods with prominent grain content, particularly corn and wheat, which are well-known allergens. Meat such as chicken and beef can also be the source of allergens, but instead of avoiding it, monitor your dog and make sure that the protein content is from pure chicken or beef.
Inactivity: German Shepherds have a healthy appetite matched by their high activity level. As they get older or develop health issues, they tend to dial down their activity and can often develop weight problems. It is essential to use weight control dog food that has a balance of carbohydrates and fats and control the portion size according to your dog's size and activity level.
FAQs
How Much Should I Feed a German Shepherd Puppy?
German Shepherd puppies grow quickly and need a lot of food as they grow. At two months old, puppies will consume anywhere from three to four cups of food per day. For each month after that, add half-a-cup of food until they reach six months.
At six months, their growth will slow, and you can keep them at that level until they are ten months old. At ten months, gradually decrease the amount of food by half-a-cup every two months until they reach adulthood.
How Much Should I Feed an Adult German Shepherd Dog?
The amount of food your adult German Shepherd needs depends on their size and activity level. The bigger and more active the dog, the more food it will consume. German Shepherds up to 65lbs can eat from 3 ½ to 5 ½ cups of food per day.
That amount climbs to 4 to 6 cups for 75lbs, 4 ½ to 6 ½ cups for 85lbs, and 5 to 7 ½ cups for 95lbs.
Bear in mind that this is dry dog food. In case you are feeding your dog wet or mixed food, lower the amount by a full cup.
When Should German Shepherds Switch from Puppy Food to Dog Food?
As large dogs, German Shepherds enjoy longer puppyhood compared to other breeds. In general, at fifteen months old German Shepherds are considered full-grown and adult dogs and should eat food intended for their strength.
All dogs are different and develop at their own rate. Still, you should avoid feeding German Shepherd puppies adult dog food during their growing phase because they need more protein and nutrients compared to mature dogs. After twelve months, you can start experimenting with food for adult dogs and try to make the transition smoother for your pet.