Best Dog Food for Golden Retrievers - Comparison and Reviews
Golden retrievers are probably one of the most popular dog breeds (with good reason 🙂). This dog breed is famous for its gentle temperament, making it the ideal family pet or service dog.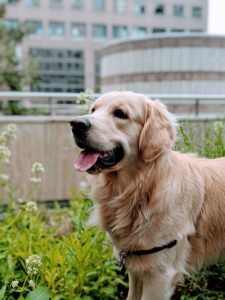 As a large breed dog, Golden Retrievers are susceptible to a myriad of health problems, including skin conditions, cancers, cataracts, hip dysplasia, arthritis, and a variety of chest problems. They need regular exercise, healthy food, and extra supplements as part of their daily diet to keep them in optimal health 🐾.
To help you find the best dog food for Golden Retrievers, we've rounded up the top options and put together a comprehensive feeding guide.
Our Top Rated Golden Retriever Food
Best Dog Food for Golden Retrievers 2023 - Reviews
Protein: 23%
Fats: 11%
Fiber: 5.7%
Calories:  276kcal/cup
Royal Canin is specifically designed to meet the nutritional requirements of purebred Golden Retrievers 15 months and older. Its kibble shape design is exclusively made for the Golden's characteristic straight muzzle to facilitate natural chewing.
This Golden Retriever food contains EPA and DHA fatty acids in the ingredients that promote your dog's heart health, making it the most popular choice for veterinary cardiologists.
Royal Canin contains 276kcal/cup, which is the recommended calorie and fat content for Golden Retrievers. This feature helps to stabilize your dog's weight and prevent obesity.
Goldens also tend to shed a lot, and this dog food contains the necessary nutrients to maintain a shiny coat and healthy skin. To ensure that your Retriever achieves a healthy water intake, you can mix water with this dog food.
Pros
Contains EPA and DHA which aids in keeping your dog heart-healthy
Kind on the digestive system
Contains taurine, an essential nutrient for a healthy heart
Guarantees a luxurious, healthy coat for your dog
Maintains your dog's ideal weight with its precise calorie and fat formulation
Cons
Contains chicken by-products
Protein: 28%
Fats: 13%
Fiber: 6%
Calories: 382kcal/cup
Purina needs no introduction as a dog food brand, and this puppy food contains high-quality protein as its number one ingredient. It is recommended for Golden Retriever puppies that will weigh over 50 pounds at maturity.
Pro Plan Puppy consists of small, crunchy kibble that your young Golden can comfortably chew. It is the best food for the development of strong bones and cartilage because of its high glucosamine content.
Ingredients contain DHA fatty acids obtained from fish oil and helps in the development of a healthy brain as well as proper vision. Additionally, you'll find that this puppy food contains essential antioxidants needed for the development of the immune system.
Purina Pro Plan is also safe for gestating and lactating females, but you may have to double or quadruple the recommended serving.
To achieve the desired results, give your puppy one week to transition slowly from its initial food into Purina Pro Plan. Since puppies begin to nibble at food 3 – 4 weeks after delivery, allow your puppy to eat at will for the first 6 – 7 weeks before developing a strict feeding schedule.
Protein: 18%
Fats: 10%
Fiber: 7%
Calorie Content: 430kcal/cup
Blue Buffalo is a respected name in the industry when it comes to manufacturing dog food for senior dogs. The nutritional content is formulated for senior Golden Retrievers using protein-rich real chicken ideal for maintaining healthy muscles.
As large dog breeds like Golden Retrievers age, they tend to develop muscle stiffness, so high protein content in their diet is crucial. The plus here is that this food also contains fruits and vegetables that aid in digestion. Just wow—it could not get better for a senior Golden Retriever!
Blue Buffalo dog food is all-natural and does not contain any artificial additives, preservatives, flavors, or color. The ingredients also doesn't contain corn, soy, wheat, and poultry by-products.
This dog food has added minerals, vitamins, and antioxidants calledLifeSource Bits, which have been put together by top-notch animal nutritionists and veterinarians. These micronutrients help to support the Golden Retrievers immune system later in life.
Chondroitin and glucosamine help to improve cartilage and joint health, and aid in the movement of your senior Golden, while carbohydrates come in handy to boost their energy levels.
Pros
Boosts the activity levels and vitality of older Golden Retrievers
Glucosamine and chondroitin levels take care of the joints and hips
The precise caloric formulation helps to maintain a healthy weight for your dog
Comes in handy for dogs with arthritis and hip dysplasia, mitigating the effects
Improves the already slowing digestion of your senior Golden Retriever
Cons
Protein: 23%
Fats: 13%
Fiber: 4%
Calorie Content:  329kcal/cup
Sustaining a large breed dog isn't easy! Your dog food needs to have a balanced protein, carb, and fat level to have all the energy they need while building muscle.
Thanks to its high-quality protein made from real cage-free chicken, Diamond Naturals is ideal for the development of strong and healthy muscles. This dog food is also rich in vitamins and minerals essential for the development of Golden Retriever.
It has Omega-3 and Omega-6 fatty acids for healthy skin and a shiny coat, as well as chondroitin and glucosamine, which are essential nutrients for healthy joints, crucial in Golden Retrievers susceptible to joint conditions. Diamond Naturals is also rich in superfoods and probiotics that aid digestion and help to maintain the optimal nutrition and gut health of your Golden.
Just like all other natural dog foods, it does not contain the allergens wheat, soy, or corn, and does not have harmful artificial colors, preservatives, and flavors in its ingredients. This dog food's low caloric formula also helps to keep obesity at bay. 
Pros
Affordable—ensures that your dog eats healthy food without having to break the bank
It is ideal for active, playful dogs due to its high carb content
Promotes a shinier coat
Ideal for picky eaters
Helps relieve skin conditions
Formulated to help curb obesity
Cons
Protein content slightly lower than Wellness Complete Health
Protein: 26%
Fats: 12%
Fiber: 5%
Calories:  340kcal/cup
Just as the name implies, this Golden Retriever food promotes the wellness of large breed dogs that weigh over 50 pounds. It is made from all-natural ingredients and does not contain any artificial flavors, colors, or preservatives.
Wellness Complete provides balanced nutrition for the whole body. It takes into account digestive, joint, and bone health, and also supports the general vitality and energy needs of your Golden. Wellness Complete further aids in the optimal absorption of nutrients into the Golden Retriever body.
Crucially, this dog food doesn't compromise on taste, and your Golden Retriever is guaranteed to wolf it down. The ingredients do not contain any allergens like wheat and soy and are enriched with chicken meal and whitefish to promote muscle development.
As Goldens transitions from puppyhood, try to combine Wellness Complete with your puppy's initial food and gradually phase it out.
How to Choose the Best Dog Food for Golden Retriever
Choosing a dog food for your Golden Retriever may require some intense research given the sheer variety available. You must ensure that your pup gets the required vitamins, proteins, minerals, and carbohydrates and in the right amounts to yield optimal health for Golden Retrievers.
Things to Consider When Buying Food for Golden Retriever
Related: Best Large Breed Dog Foods
There are several essential factors you should consider before settling on dog food for your Golden, whatever their life stage. The most important factor is to look for foods with no fillers, artificial additives, or by-products, rich in lean protein, limited in fats, and balanced according to AAFCO nutrient profiles.
When selecting dog food, you should also consider the credibility of the manufacturer as well as establishing whether the company has strict quality control measures for its products. Recalls over the years will give you a good indication of the quality of the dog food.
It is also crucial to understand the specific health needs of your Golden Retriever to prevent them from developing the ailments known to afflict this particular breed.
Nutritional Needs of Your Golden Retriever
Proteins
Strive for at least 30% protein. Animal protein is essential for the development of healthy muscle in Retrievers due to the large body and dynamic nature of this breed. Make sure that animal protein is the first ingredient and is clearly stated as such on the label.
Carbohydrates
Goldens need not more than 20% carb content, which should be adjusted with size. A young Goldie requires carbohydrate-rich food because of its physical activity, unlike an old Golden that is less physically active.
Fats
As much as too much fat might be deemed dangerous, it is essential in the right quantities and types to achieve optimum health levels. The perfect dog food for Golden Retrievers should contain at least 15% fat content. Omega-6 and Omega-3 fatty acids also help to maintain your dog's endocrine system, as well as a shiny coat, for a healthy and beautiful glow.
Micronutrients and Nutraceuticals
Golden retrievers require essential minerals such as glucosamine and chondroitin, for strengthening their joints and hips. These dogs are susceptible to elbow and hip dysplasia, as well as arthritis, so these minerals help to enhance your dog's mobility.
Calcium and phosphorus also help in the development of a healthy nervous system, while iron helps in the oxygenation of red blood cells.
Vitamins are also very significant in improving eye and skin health, and in the growth and development of all cells. EPA, DHA, and ELA are essential fatty acids vital in maintaining healthy immune, neurologic, and cardiovascular systems in your dog.
Dietary Fiber
Dog food rich in fiber guarantees smooth digestion and alleviates constipation. Ensure that Golden Retriever food contains the necessary fiber to prevent this condition.
Life Stage of Your Golden Retriever
Puppy: Puppy food should be delicious, preferably wet. Gradually you can transition to dry food with small size kibble to make it easy for your puppy to chew. Ensure that the puppy food for Golden Retrievers has plenty of proteins for muscle development, and increased carbohydrates to keep your pup energized for play. Also, checkout our recommended puppy foods if you are buying food for your Golden puppy.
Adult: Adult Goldens need a balance of moderate to high protein and carbohydrates to maintain muscle weight and provide energy. The fat content should be medium to low and should be controlled to prevent obesity.
Micronutrients and nutraceuticals help to promote healthy skin, joints, eye health, metabolism, and digestive function.
Seniors: Senior Goldens tend to slow down and develop certain breed-specific conditions.
Reduce carb intake and ensure Golden Retriever food has enough protein to strengthen worn-out muscles. Since your Goldie might also shed more than usual, go for foods rich in micronutrients to alleviate shedding and maintain a healthy and shiny coat. Read our best senior dog food post for more options.
Golden Retriever Health Conditions and Special Dietary Needs
Like all dog breeds, Golden Retrievers are prone to developing certain health conditions and need a diet that will help to prevent these conditions. These include:
Aortic Stenosis
In this condition, the valve exiting the heart tends to narrow, restricting the flow of blood to the rest of the body. Omega fatty acids and dietary fiber in your Golden Retrievers diet will help to lower the levels of bad cholesterol and lipids in the blood.
Von Willebrand's Disease
This condition causes your Golden to bleed profusely due to the lack of a specific clotting factor in his blood. While this disease is genetic, you may help your Golden by supplying lots of Vitamin K in the food to improve the situation.
Hip and Elbow Dysplasia
Large breed dogs tend to develop these conditions, especially later in life. Calcium, glucosamine, chondroitin, and phosphorus help to strengthen Golden Retriever's bones and joints, thus alleviating or preventing the condition from developing in the first place.
Hypothyroidism
Golden retrievers are prone to hypothyroidism and may suddenly develop unusual weight gain without a change in their routine. This condition may be an indication of an underactive thyroid. Support your Golden by giving them plenty of ALA, DHA, and EHA fatty acids, as well as high-fiber foods, antioxidants, and probiotics.
Cancers
Goldens suffer mostly from lymphoma and hemangiosarcoma cancers, which target the lymphatic and cardiovascular systems, respectively. Optimal nutrition is vitally important, just as in humans, to keep these severe diseases at bay in Golden Retrievers.
Eye and Skin Health
Golden Retrievers are prone to congenital cataracts. Vitamin A and DHA fatty acids can help to mitigate the effects of this condition in your dog. Also, give your dog omega-3 and omega-6 fatty acids for a healthy coat and skin.
Frequently Asked Questions (FAQ)
How Much Dog Food Is Recommended for a Golden Retriever Puppy?
You should give your puppy three meals per day, from when it starts weaning all through the next 6 -8 weeks of life.
As much as food levels vary from one puppy to another, the recommended food intake for the Golden Retriever puppies is about ½ a cup of dry puppy food. Water should also be provided on the side.
How Much Food Should I Give My Adult Gold Retriever?
Vets and animal nutritionists recommend two meals a day, totaling 2-3 cups of dry food per day.
It is vital to keep track of the meal frequency and quantity. This action will prevent your dog from becoming obese or undernourished.
We don't recommend feeding your dog once a day, as frequent small feeding helps to prevent bloating.
When Should Golden Retrievers Switch from Puppy Food to Dog Food?
Your vet is probably the best person to ask this question. However, just to shed some light on the topic, it should be at the 10 – 12-week life stage. To achieve desirable results, consider sticking to one brand of dog food and transition gradually. A sudden change in dog food can bring about adverse health effects like excess gas and diarrhea.
Can I Make Home-Made Dog Food for My Golden Retriever?
Of course, you can! But you've got to be very careful when doing so. You must ensure that the food you make caters to the nutritional needs of your dog and keep the fat content low. The food should be rich in vitamins and minerals and contain moderate to high proteins, moderate carbs, and essential fatty acids.
Before you go down this route, though, consult your vet for the ultimate advice.
What Ingredients Should I Avoid When Buying Dog Food for My Golden Retriever?
In addition to allergens, artificial flavors, and preservatives, stay clear of additives like propylene glycol used to add moisture in dog food. This additive can cause anemia in pets. Also avoid TBHQ that causes irreversible DNA damage, and propyl gallate, a carcinogenic compound.