Best Dog Food for Small Dogs - Comparison and Reviews
Finding the right dog food for your small breed is no easy task. There are many different dog food brands available, and each has unique ingredients.
To help you find the best option for your small breed, we'll look at the critical ingredients that your pup needs to keep him energized and healthy.
Top 10 Best Dog Food for Small Dogs 2023 - Reviews
1. IAMS Proactive Health Small and Toy Breed Dry Dog Food
IAMS Proactive Health Small & Toy Breed Dry Dog Food provides a balanced diet to small dogs and toy breeds. This dog food contains several high-quality sources of proteins, fat, dietary fiber, vitamins, and minerals.
IAMS Proactive Health contains a wealth of animal-based protein sources. These ingredients include chicken and dried egg products. The high quality protein is excellent for toy breeds to maintain muscle mass and gain healthy weight. The ingredients are also fortified with essential minerals to maintain toy breeds strong bones
Plant-based sources of protein in this product include flaxseed ground whole grain corn, and dried brewer's yeast. Along with the chicken content, flaxseed is also a healthy source of fat to provide toy breeds with long-lasting energy.
IAMS is also high in dietary fiber. Ingredients that are sources of fiber include dried beet pulp and flaxseed oil. Some veterinarians recommend this dog food for toy breeds with digestion issues as its formulated with L-Carnitine to maintain a healthy metabolism.
2. Hill's Science Diet Perfect Weight Small & Toy Breeds
Hill's Science Diet Perfect Weight is the weight management dog food for small and toy breeds. It's the only weight loss dog food with clinically proven results — 70% of adult dogs lost weight within ten weeks.
Small and toy breeds like Dachshund, Pugs, etc are prone to get overweight because they are not as active as large breeds. Perfect Weight has a proprietary formula to support healthy weight loss with real chicken as the primary ingredient to maintain lean muscle.
Hill's Science Diet also contains coconut oil, which contains medium-chain fatty acids (MCFA.) This ingredient promotes food digestion and improves toy breed dog skin and coat health.
Hill's Science Diet includes several supplements as well, including vitamin E, A, B12, and D3. The brown rice and flaxseed are excellent sources of minerals to promote the health of your small or toy breed dog.
3. Blue Buffalo Life Protection Formula Small Breed Dry Dog Food – Healthiest Choice
Blue Buffalo Life Protection Formula is the healthiest dry dog food for small breeds. Whitefish is the #1 ingredient and along with Turkey meal, it provides a high-quality source of protein and fat which helps Small Dogs gain healthy weight and build strong muscles.
Blue Buffalo also promotes healthy digestion in Small Dogs. The most prominent fiber source is brown rice, which is rich in phosphorus, magnesium, and manganese. Brown rice is easier to digest than other grains. Additionally, the dog food contains wholesome whole grains, garden veggies, and fruit that provides essential nutrients such as vitamins and minerals. It helps Small Dogs to stay strong, healthy and boost their immune system.
Blue Buffalo's Small Breed dry food is rich in essential fatty acids like Omega-3 and Omega-6 sourced from fish oil. This is really beneficial for skin and coat health of Small Dogs like Yorkie, Chihuahua, and others.
Overall, Blue Buffalo is a top dog food brand that provides quality ingredients with animal based protein. Although it's a bit expensive but its the goto dog food brand of most pet owners.
4. Blue Buffalo Homestyle Recipe Small Breed Wet Dog Food
Blue Buffalo Homestyle Recipe Small Breed Wet Dog Food is one of the best wet dog food for small dogs with natural chicken flavor. It has high moisture content and provides complete nutrition for small dogs.
Wet dog food generally has consistent smell and good taste making it more palatable to small dogs who are picky eaters. It's also soft and easy to chew. On top of it, the high moisture content in canned food is good for small dogs with urinary tract condition.
Blue Buffalo canned food features high quality animal based protein from chicken and dried eggs. The biological value of these ingredients ensures a high amino acid content with significant health benefits for small dogs, such as immune system health, the production of hormones, and the growth of muscle and hair.
The chicken broth in the ingredient list is responsible for the food's moisture content and authentic flavor which small dogs love to consume.
The fruits and vegetables i.e. blueberries, cranberries, sweet potato, peas in the ingredients are good sources of manganese, vitamin A, vitamin C, and vitamin K.
5. Wellness Core Natural Grain-free Small Breed Dog Food
Wellness Core Natural Grain Free Small Breed Turkey Flavored Dry Dog Food has complete and balanced nutrition for Small Dogs. It is 100% naturally grain-free and produced with protein rich ingredients to meet high energy demands of small dogs.
The animal-based sources of protein are predominant in Wellness Core which means this dog food is ideal for the development and maintenance of Small Dogs body tissue. The high quality protein along with fats and carbohydrates provides optimum Calories to meet the energy requirements of Small Dogs.
Wellness Core features small kibble size that is fortified with vitamins, minerals, and antioxidants. Flaxseed oil and salmon oil listed in the ingredients contains omega-3 fatty acids which help to improve the skin and coat health of Small Breeds.
6. Halo Small Breed Dog Food – Best for Sensitive Stomach
Halo Natural Small Breed Dog Food features real Whole meat and no meat meals which makes it the best choice for Small Dogs with sensitive stomach.
Halo includes only Whole Chicken or Fish and absolutely no Meat Meal in the ingredients, unlike many other dog food brands. Meat meals are processed at high heat due to which the protein loses its degree of digestibility. Whole Meat, on the other hand, is highly digestible and perfect for Small Dogs because they have smaller intestinal tracts. A highly digestible dog food has more nutritional value for Small Dogs in terms of healthy weight gain, muscle development and meeting the energy requirement. 
Because of Halo's super digestibility, the poop quality of Small Dogs is considerably better. You can expect to see firm stools improving the stomach health of your little pup.
Halo small breed dog food also features smaller kibble for little mouths and fatty acids to support healthy skin and coat.
7. Hill's Science Diet Dry Dog Food for Adult Small Breeds
Hill's Science Diet Small Kibble Dry Dog Food is another top quality dog food for Small Dogs. This small paws dog food is specially prepared for small breeds with an AAFCO approved formula that is rich in carbs, fiber, fat, and protein. Sources of protein include Lamb Meal which would help to maintain the lean muscles of Small Dogs.
Hills Science Diet has the best kibbles that small dogs love to eat. Usually, small breeds like Yorkie are picky eater and hard to feed regular dry dog food. Many Small Dog owners have commented that their pup loves the taste of this dry food. The small kibble size is also optimum for little dogs to easily chew and digest this dog food. They will also pass firm and healthy looking stool.
8. Natural Balance Small Breed Limited Ingredient Diet – Best for Food Allergies
Natural Balance Limited Ingredient Diet is best for Small Dogs with food allergies or sensitive stomach. Limited Ingredient Dog Food uses a simple recipe to limit ingredients in the dog's diet to minimize the chance of food sensitivities.
Small breed dogs are usually prone to sensitive stomach and have digestion issues like diarrhea, soft stool, excessive gas, etc. Natural Balance dog food comes with single protein (Lamb/Chicken/Fish) and single highly digestible carbohydrate (Sweet Potato/Brown Rice) that can be very effective for small dogs with gastrointestinal disease. Since the food formula is highly digestible, it would also help with any excessive gas or food allergy issues.
On top of it, Natural Balance is loaded with vitamins, minerals, and antioxidants. This will ensure that your little dog's nutritional needs are adequately met.
9. Nature's Recipe Grain-Free Small Breed Dry Dog Food – Good for Allergies
Nature's Recipe grain-free small breed dog food features real chicken as the #1 ingredient, small kibble size and Easy to Digest recipe.
Nature's Recipe is an excellent food to fight allergies and skin problems in Small Dogs. It is also relatively cheaper than other grain-free dog foods in the market. This is definitely a goto low price grain-free dog food for Small Dogs if you are on a budget.
The dog food contains a wide range of protein sources, including chicken, chicken meal, peas, and pea protein. Other notable proteins in Nature's Recipe are garbanzo beans, along with chickpeas and poultry fat preserved with mixed tocopherols. Despite the prominent presence of pea protein, this product's protein sources are predominantly animal-based and good for Small Dogs muscle growth and weight gain.
Carbohydrate sources in this dog food include garbanzo beans, sweet potato, and pumpkin. Sweet potatoes and pumpkin add a delicious taste to this grain-free recipe. These nutrient-dense carbohydrates are easy to digest and help your Small Dog stay active and healthy.
10. Rachael Ray Nutrish Dog Food for Small Breed Puppy and Adults – Best Cheap
Rachael Ray Nutrish Little Bites Inexpensive Small Breed Dog Food for Puppy and Adults in Chicken and Veggie Flavor has a unique formula to ensure balanced nutrition for small dogs of all life stages. USA farm-raised chicken as the top ingredient, which is a high-quality source of easily-digestible protein to maintain small dogs muscle mass.
It also includes fiber-rich peas, beets, and carrots. These vegetables contain healthy carbohydrates and essential fatty acids to provide your small dog with energy, promote intestinal health, and support healthy skin and coat.
Little Bites Dog food contains a balanced diet for small breed dogs. The food is easily digestible, and it is rich in vitamins and chelated minerals. The product's kibble consistency promotes small dog's dental and gum health, too.
Pros
Contains high-quality animal-based sources of protein
Features ingredients that are sources of fat, carbohydrates, vitamins, and minerals
High omega-3 and omega-6 fatty acid content
Does not include any artificial products
Cons
Pea protein is a plant-based protein with a relatively low nutritional value
How to Choose the Best Dog Food for Small Breeds
In the buyer's guide below, we will discuss crucial buying considerations when shopping for small breed food. By taking these considerations into account, you will be able to select the most appropriate dog food for your little pooch.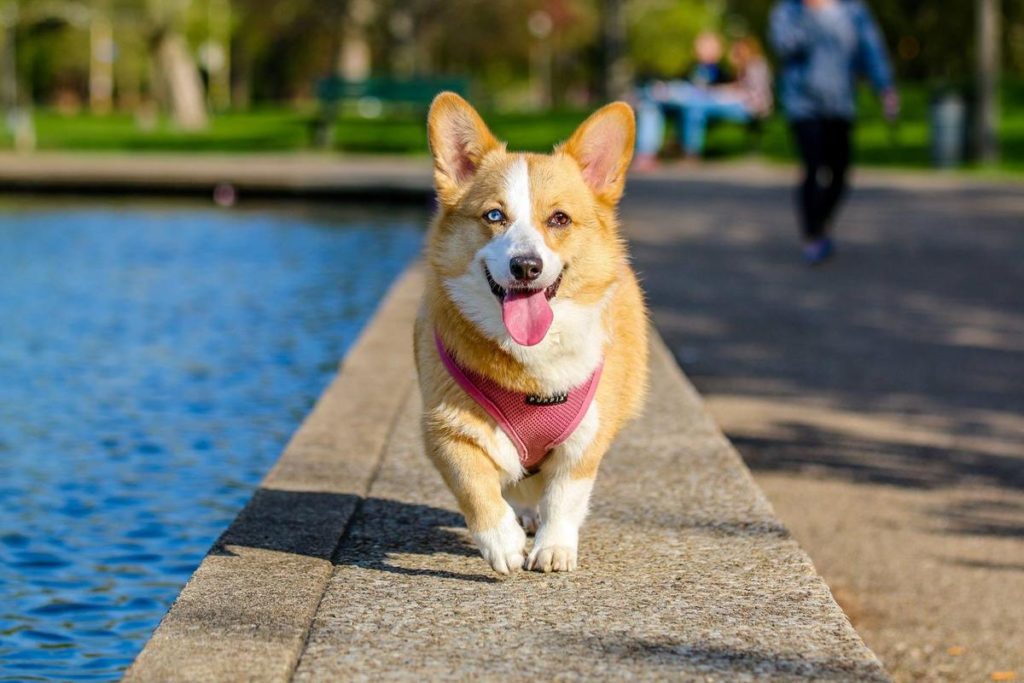 What Things to Consider When Buying Dog Food for Small Dogs
When selecting food for your small dog, there are several things you have to consider. The most crucial things you have to take into account are your small dog's nutritional needs, the current life stage of your dog, as well as any special dietary requirements they may have.
Nutritional Needs of Small Breed Dogs
Contrary to popular belief, small dogs are not strictly carnivores, and they need a balanced intake of proteins, fats, vitamins, minerals, and fiber.
Proteins
Proteins are complex organic molecules that consist of amino acid chains. Your little dog needs proteins to enhance body tissue growth, for example, muscles, bones, hair, and skin. A dog's body produces nonessential proteins, but these are not sufficient to keep them healthy.
In addition to nonessential proteins, your small dog also needs essential proteins that his bodies can't produce by itself. Animal-based proteins are better for a dog's tissue development than plant-based proteins.
Carbohydrates
Carbohydrates are a source of energy that includes the simple sugar from fruits and milk as well as fibers from grains. Carbs in dog food typically include things like oats, corn, rice, wheat, and barley, and can make up anywhere from 30% to 70% of dry dog food.
High-quality small breed diet will typically contain whole wheat, whole corn, or sweet potato as sources of carbohydrates.
Fats
Fat is a source of energy and gives an appealing flavor to food. Fats with the highest nutritional value include omega-3 and omega-6 fatty acids. These are essential fatty acids because your small dog's body can't synthesize them, and you have to include them in its diet.
Omega-6 fatty acids include linoleic acid, gamma-linoleic acid, and arachidonic acid. Omega-3 fatty acids include alpha-linolenic acid, eicosatetraenoic acid, and docosahexaenoic acid. Your small dog's diet should ideally contain around 0.3% omega-3 and 2.2% omega-6.
Vitamins and Minerals
Small dogs bodies can't produce its own vitamins, and so you have to ensure that the food you give them is a healthy source of vitamins.
Minerals are inorganic compounds that your small dog needs to build strong bones and teeth and to convert the food they eat into energy. High-quality dog food typically includes minerals like amino acid chelate, amino acid complex, and proteinate.
Fiber
In addition to energy, grains can also be a source of protein. Low-quality fibers with little nutritional value can contribute to intestinal health, but too much can increase stool production and gas. Fiber is not a required nutrient for small dogs, but most manufacturers include it to aid digestion and keep them full.
Life Stages of Small Dogs
Puppy
Small breed puppies require around four times more energy than adults, as they are developing new tissue. When choosing food for your puppy, stick to products that are high in phosphorous, calcium, fat, and, most importantly, protein.
Smaller breeds need a high intake of these nutrients to prevent issues with the development of their skeletal structure, which can lead to obesity and back problems.
Adult
At the age of one to two years, your small dog becomes an adult. The dog food you give him should no longer enhance early development but focus on maintaining its overall health. Select dog food for small breeds that contains the following:
Fish oils with vitamins to promote skin and coat health
Fiber to support digestive health
Essential minerals to boost the immune system
High-quality carbs as a source of energy
Animal-based proteins for muscle maintenance
Fat as a long-lasting source of energy
Essential fatty acids to regulate blood pressure, liver function, and inflammation
Senior
When small dogs reach the last third of his life expectancy, their dietary requirements change again i.e. requirements for proteins, fats, and calories lower with age. So, older dog food needs more fiber to accommodate an increasingly inactive lifestyle of mini breeds.
Small Dogs Special Dietary Needs
Food Allergies
Small dogs with food allergies are typically allergic to proteins like dairy, wheat, chicken, or beef. A food allergy is when the immune system mistakes the protein molecules for allergens. Symptoms of food allergies include non-seasonal itching, recurring skin, and ear infections, vomiting, or diarrhea.
If you suspect that your small dog has a food allergy, consult with your vet or a veterinary nutritionist to find out about hydrolyzed or novel protein diets.
Weight Management
Small breeds that have a propensity for being overweight include dachshunds, cairn terriers, and Scottish terriers. Inactive dogs with medical problems can also become obese. Food that is high in fiber can help your dog to feel full but without the high-calorie intake.
Blood Sugar
If your small dog has diabetes, the dietary objective is to keep glucose levels healthy and prevent diabetes-related conditions such as cataracts and urinary tract infections. Vets typically recommend a prescription small breed food that is high in fiber and low in fat for diabetic smaller dogs.
Related:
FAQs
How Much Should I Feed My Small Breed Dog?
Generally speaking, miniature and small breed dogs need one cup of meal per day. If your dog is in shape, weight is a significant determinant of how much food you should give him. Most dog foods include a chart that recommends the appropriate daily intake according to weight.
Which Breeds Qualify as Small?
A small breed dog is one that weighs less than 22 pounds, or that is shorter than 16 inches. Some small breed dogs may be larger or heavier, however. Small dog breeds include, among others, beagles, Yorkshire terriers, chihuahuas, miniature schnauzers, and dachshunds.
Can Small Breed Dogs Eat Regular Dog Food?
Kibbles for small breeds are smaller than the ones for large or regular breeds. Large kibbles may not be suitable for small dog jaws and can cause gastrointestinal upsets and dental issues. Dog food formulas for large breeds may not contain the nutrients that small breeds need.