Best Dog Food for Weight Loss - Comparison and Reviews
Sometimes, just like us, your furry friend may need a little diet refresh to make sure their lifestyle is the best it can be for health, happiness and fun 🙂!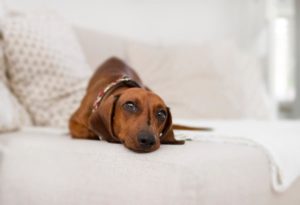 Remember, the ideal weight for your dog will depend on their breed 🐶. But if you know that he or she is overweight and want to help them get back on track, there are plenty of ways to do it.
Here are the best dog food for weight loss:
Best Weight Loss Dog Food 2023 - Reviews
Developed by a massive team of 220 veterinarians, food scientists, and technicians, Hill's Science Diet is recommended by more veterinarians than any other brand. Their Perfect Weight formula is the only weight management dog food with clinically proven results — 70% of adult dogs lost weight within ten weeks.
The first ingredient is real chicken, followed by a host of healthy options, such as cracked barley, carrots broccoli, and peas. A high-antioxidant mix with vitamin C and E along with Omega-3, ensure your dog's immune system functions at its best, too.
However, this is not the cheapest dog food on the market by far. Its price may be prohibitive for some dog owners. But this dog food also support lean muscle maintenance along with keeping your dog weight in check. Its taste is also loved by most dogs and many dog owners find it easily palatable to their dogs.
Blue buffalo takes pride in ensuring all their formulas contain real meat as the first ingredient—in this case, deboned chicken. The healthy weight dog food comes with no by-products, soy, or wheat. Their Life Protection line includes LifeSource Bits, which are small kibbles packed full of antioxidants, vitamins, and minerals designed to support immune system health and a healthy oxidative balance.
The Healthy Weight blend optimizes energy balance, so more calories are offered from protein resulting in a reduced fat formula to help your dog slim down. It is essentially a low fat dog food with 45% fat-to-protein ratio.
Also note that Blue Buffalo healthy weight is meant for weight control. Your dog might not start to lose weight on this diet alone without exercise. But with moderate exercise along with this dog food you will start noticing the weight loss within 2-3 weeks.
Purina Pro Plan adds a natural probiotic to their weight management blend to help keep your dog's digestive system healthy. With real meat as the first ingredient and a mix of crunchy kibble and tender shredded chicken bits, your dog is sure to enjoy this food flavor-wise. While an impressive 26% protein is sure to keep them feeling full longer, and so eating less.
It's 25% lower fat content should, in theory, also help them return to a healthy weight, but some users report they saw no change in weight of their dog with this diet. They did, however, notice an increase in gas. Keep in mind that flatulence is a common issue in dogs switching to a new food. Give it at least two weeks before passing judgment unless you see extreme signs of illness in your dog, which may indicate an allergic reaction.
Purina weight management dog food works best with mildly obese dogs who need to lose only a few lbs. You will start seeing the results with this diet and the chicken flavor of this food is generally liked by dogs.
Natural Balance's Fat Dogs low-calorie dog food is pretty direct with their target market — fat dog owners. With a high protein and fiber content, this food is formulated to help your dog feel full longer while also keeping their bowel movements regular. Frequent potty breaks can be a pain for owners, but increased fiber does help maintain a healthy weight in both dogs and humans.
Natural Balance is not the most well-known dog food brand, but they have been in business since 1989. Their Fat Dog blend is widely available online, but otherwise, this is not a kibble you'll find in every department store in America like bigger brands such as Purina. Of course, this is only an issue if you prefer to buy local.
Wellness Core's Natural Reduced Fat formula is the best grain-free food for weight loss featuring high protein and limited ingredients. The recipe focuses on whole ingredients — deboned turkey, potatoes, peas, and more — designed to support lean body mass and overall healthy weight. It is also grain-free and gluten-free making it an excellent option for dogs with sensitive stomachs.
There are separate feeding guidelines on the pack for both weight management and weight loss. If your goal is to reduce the weight of your pooch, start with the recommended feeding amount and monitor the weight for about 2 weeks. If your dog doesn't start to lose weight, consult the vet on feeding amount since all dogs are "different".
Once you have achieved the target dog weight continue with this diet for weight management. It has high proteins and 25% reduce fat than the standard Wellness Core pack. The dog won't feel hungry or beg for more food.
On a side note, you can also mix this food with wet dog food with grains if your dog is getting constipated.
Pros
Grain-free, gluten-free, and organic—allergen safe and lower calorie
No wheat, soy, corn, or meat by-products
No artificial coloring in the food
Deboned turkey is the top ingredient—a healthy lean protein
Includes kale, broccoli, sweet potatoes, and other healthy ingredients
25% less fat than your standard dog food
12% crude fiber to aid in regular bowel movements
Cons
Expensive
May cause gas in some dogs
Some users don't like the smell
For adult dogs only
CANIDAE PURE focuses on limited ingredients in a grain-free formula to pose as little an allergy risk as possible—that is except the inclusion of chicken as the #1 ingredient. Many dogs do just fine with chicken, though, and it's considered a lean protein source, second only to turkey.
The Weight Management blend only contains nine major ingredients—chicken, chicken meal, turkey meal, sweet potatoes, peas, chickpeas, potatoes, and sun-cured alfalfa. It also contains a complex mix of probiotics, antioxidants, vitamins, and minerals. This can create a point of confusion, as the bag seems to suggest the food only contains nine ingredients, but the ingredient list is far longer.
This limited ingredient diet is best for senior dogs who need a weight control diet. The food is nutritious and wholesome with probiotics that would ensure the dog is not constipated. A healthy bowel also eventually ensures the healthy weight of the dog.
Formulated with a unique prebiotic blend and high in nutrient-rich fibrous fruits and vegetables, such as blueberries, sweet potatoes, and raspberries, Taste of the Wild Grain-Free Canned Stew aims to mimic the diet your dog would eat in the wild—and you don't see a lot of fat wolves.
It is available in five flavors — High Prairie (venison and bison), Pacific Stream (salmon), Sierra Mountain (lamb), Southwest Canyon (wild boar), and Wetlands (roasted duck). Each contains the corresponding flavor as the #1 ingredient and contains no grain, gluten, artificial preservatives or flavorings.
Canned dog food is also an excellent addition to a weight management diet. It tends to be higher in protein than dry food and lower in carbohydrates and fat —plus most dogs really enjoy it as a little gravy for their kibble.
Diamond Naturals Light strikes an impressive balance between price and quality with pasture-raised lamb as the #1 ingredient in this weight control food. That lamb is backed up by whole grain brown rice, oatmeal, cracked pearled barley, coconut, spinach, and blueberries, to name a few, creating a powerful superfood blend overflowing with antioxidants, vitamin D, B12, and B2 vitamins helping ensure proper nourishment for your pup.
Diamond Naturals Light is good for overweight or less active adult dogs. With 15% fewer calories than the standard Diamond Naturals pack and added glucosamine, L-Carnitine, and chondroitin, this recipe is the perfect choice for dogs to reach and maintain healthy body weight along with adequate nutrition.
Even better, the formula features a patented mix of K9 Strain probiotics with 80,000 live cultures per pound of dry kibble. With a price point far below average for specific diet concerns such as weight management, you might expect lower quality, but user reviews don't seem to reflect that. Some do complain of initial diarrhea and gas, but both can be normal if the food transition process is rushed. The only wide-spread complaint regarding this food is that it seems to be the culprit behind sudden bad breath.
Another wet canned dog food option, Nutro Ultra Adult Weight Management canned food offers a friendly way to give your dog a little treat at mealtime. It is formulated from lean protein sources, such as chicken, and boasts a notable 14-ingredient superfood blend to keep your pup's immune system running at the top of its game.
While it does contain chicken, which, as mentioned, can be problematic for some dogs, it doesn't contain any chicken by-products—or corn, soy, and artificial preservatives, either, for that matter. Some users do complain that the pop tops on the cans are a bit flimsy and tend to break leaving you with the fun task of breaking the lid off some other way. On the upside, Nutro offers a 100% satisfaction guarantee on all their dog food products. If you're dissatisfied for any reason—including that you can't get it open—you can receive a full refund.
Pros
Three lean protein sources: chicken, lamb, and salmon
14 ingredient antioxidant super blend
Supports immune system health
No chicken by-products, corn, soy, artificial flavors, artificial preservatives
100% satisfaction guarantee
Cons
Far from grain-free—wheat gluten is in the top five ingredients
Pop-off can lids are low quality and often break
The first five ingredients of Merrick Healthy Weight are deboned beef, chicken meal, potatoes, peas, and sweet potatoes. These form the backbone of a formula with a macronutrient balance specifically aimed at building lean muscle and shedding excess weight — 55% protein and healthy fat and 45% complex carbohydrates from vegetable and fruit sources.
The use of vegetable-based carbs rather than grains reduces allergen risks while simultaneously boosting fiber. Every ingredient in Merrick products is also made in the USA and contain no controversial imports from China.
The company supports local farmers and growers, and, in the process, improves the quality of their products. Unfortunately, that quality comes at a price. Merrick Healthy Weight is one of the most expensive weight management dog foods on the market. Worse, it doesn't seem to be a fan favorite with dogs. Many owners have reported their dogs wouldn't touch a single kibble. As Merrick was bought out by Purina, some users also complain the formula for this food has changed. Be wary of older reviews.
Pros
Deboned beef is the first ingredient
High in Omega-3 and -6 fatty acids
No soy, wheat, or gluten
32% crude protein
Made entirely in the US—no Chinese imports
Cons
One of the most expensive foods we reviewed
Not picky-eater approved—owners report lots of dogs turn their noses up at this mix
Some users report a formula change made when Purina bought the brand was for the worst
How to Choose the Best Dog Food for Weight Loss
There are a few things you should always consider when you are looking to purchase any dog food — not just a weight management formula. There is no shortage of options on the market, and not all are created equal. Of course, you should look at the quality, ingredients, the source of those ingredients, company reputation, and price, among other factors, but more importantly, you should consider factors specific to your dog.
Clearly, in this case, one factor is weight management, but what breed is your dog? Size? Age? Do they have any other health issues or known allergies? How active are they? Dog-specific factors play a significant role in identifying the best food.
Your first step is to compile a needs list based on all the above. Know your dog and what they need to be healthy — your vet can be an invaluable resource in this process. Next, build a short-list (our list in this review should certainly help) and try to narrow it down to less than three options.
Buy a small bag of your top pick and test it out before committing to a large bag. Keep in mind that there is always a transition period. You need enough food for about three weeks unless there is an immediate sign your dog may be allergic to some ingredient.
The basics being covered, let's take a more in-depth look at some of this.
What to Consider When Buying Diet Dog Food
Age
While some diet food brands serve dogs of all ages, a lot of the brands only offer formulas aimed at adult dogs. Feeding a puppy adult dog food could deny them the right nutrients they need to grow and nourish. You want to be sure the food you are getting for your dog will not harm them in any way.
Breed
When you're trying to choose the right food, your dog's breed comes into play. Some dogs, for example, such as Golden Retrievers, can develop joint disease from a high-calorie diet. Certain breeds have a higher chance of obesity, like Yorkies or Beagles, unlike their counterparts, Greyhounds and German Shepherds, who are both prone to remaining quite slim throughout their life.
Being sure to match the metabolism and other aspects of your dog's unique breed to the food you purchase will ensure they live a healthy, fit life.
Ingredients
Making sure the dog food you buy has the proper ingredients to help your dog develop muscle and lose fat is key. However, also consider your dog's tastes. Most brands incorporate some different variations of meat into their foods. You may find your dog dislikes certain flavors.
So, when you are choosing based on ingredients, be sure to consider the things your dog likes and dislikes. Also, be sure to be aware of brands with gluten, soy, and grain-free products. Some dogs won't be affected by these ingredients, but others will.
Calories
The number of calories in every cup of the food you choose should be enough to keep your dog from being hungry but cause weight loss in at least a 10-week timespan.
FAQ
What should be the ideal diet of a dog for weight management?
The ideal diet for an overweight dog is full of lean protein to build muscle, amino acids to build up their immune system, fatty acids to protect their skin and fur, and superfoods to maximize health benefits. High fiber is also often recommended.
How much should you feed an overweight dog?
Dogs that consume fewer calories than they burn are prone to lose weight. So, the goal here is to know how many calories are in each cup of food you choose and to follow the guidelines listed on the side of the bag. If you're not noticing your dog's weight decreasing, you may want to lower the amount of food you're offering.
To follow the label guidelines on the side or back of the bag, you will need to know how old your dog is, how much they weigh, and the breed to be sure you're hitting the right metrics. You want to be sure you are feeding them below-average calories, below-average fat, above-average proteins.
What can happen if your dog is overweight?
At least 45% of US dogs are overweight or obese. If you want to put that into a number, that's 35 million dogs. Things like diabetes, arthritis, heart disease, lung disorders, high blood pressure, and immune dysfunction can occur to your dog if it remains overweight. It also often leads to a decreased lifespan.
Is it hard to notice an overweight dog?
Yes, it can be. Especially if you are the owner of an overweight dog, your bias will be leaning more towards no for obesity than yes. Veterinarians report over 50% of dogs they see are overweight, while their owners only agree 17% of the time. So, if you are reading this article and have doubts about the health of your dog, you should consult with a professional—one you trust—and not ignore their advice.
The best solution for obese dogs?
More exercise and less food! Dogs are somewhat like humans; the only difference is they depend on us for every meal. A dog's owner decides how much to feed him as well as when to take him out for a jog. If you are willing to help your dog lose weight, your best bet is to add more uniform exercise and a manageable diet to their daily routine. There are plenty of dog treadmills to get you started exercising your pup indoors if you can't go outdoors during the pandemic.
How many calories should your dog have per cup?
The number of calories your dog should consume varies based on their weight and activity level, but between 240 kcal/per cup and 440 kcal/per cup is common. Their weight is an excellent starting point to determine where your dog falls on this spectrum, with most dog food brands printing weight based recommendations on the dog food bag. Very active dogs, such as working breeds, may require more calories than their weight suggests, while couch potatoes may need less. This is another department where your vet can help.
Is there a way to find out how many calories my dog should eat to lose weight?
Yes, there are actually calorie calculators online that ask for certain information so that it can determine the number of calories you should give to your dog. Once you find out that information, you can then compare the number of calories each of these brands have to offer.
What are the different dog breeds and which ones are more likely to become obese?
When you are looking at dog breeds, there are four categories. Small breeds, such as Cairn Terriers, Dachshunds, Scottish Terriers, Cavalier King, and Charles Spaniels. Medium breeds, such as Beagles, Cocker Spaniels, and Basset hounds. Large breeds such as Labs, Golden Retrievers, and Rottweilers, and giant breeds, such as Newfoundlands, Saint Bernards and Bernese Mountain Dogs.
Of this list, small breeds are the most likely to become overweight, but activity level and diet play a more significant role.
How often should I weigh my dog to check for results?
When your dog is on a diet program, it would be best to check their weight either weekly or monthly depending on how fast you expect results. It may take some time for the difference to be noticeable to the naked eye, so putting them on the scale at the end of every month will give you more knowledge on whether the methods you're using are working.
Now, if you and your dog exercise a bunch, it might be good to check weekly. A lot could happen in a short time when there is massive proper action taken. Keeping your dog moving throughout the day can be a key component to the results you want.