Best Dog Food for Yorkies
If you own a Yorkshire terrier (which you most likely do, or are planning to, as you're reading this article :)), it's worth researching their optimal nutritional needs as most of these cute, feisty dogs are pretty picky eaters.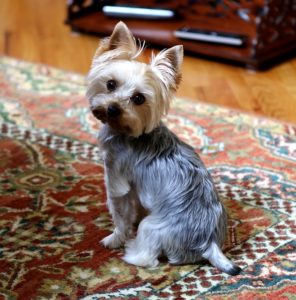 Yorkies make great family pets due to their size and sweet disposition. They are patient with children and show endless love to their parents and family members. They are also protective and can make excellent alarm dogs in case of a home intrusion 🐕.
As with all dogs, Yorkies need breed-specific nutrition to ensure a long life span. The best dog food for Yorkies caters to the high-energy needs of their bodies as well as their picky palate and sense of smell.
Yorkshire Terriers also have breed-specific ailments such as protein sensitivities, tracheal collapse, floating kneecap, and hypoglycemia.
So, how do you choose the best dog food for your Yorkshire Terrier? We'll break down all the essential points to cover when checking what dog food to buy 🐾.
These include calories, protein-fat ratio, fruits and vegetables, and health supplements that provide your dog with the optimal nutritional profile at the most affordable price.
Best Dog Food for Yorkies 2023 - Reviews
1. Blue Buffalo Life Protection Formula Small Breed Dog Food
Protein: 26%
Fat: 15%
Fiber: 4%
Calories: 452kcal/cup
Blue Buffalo dog food contains natural ingredients and lists real chicken and fish meal as its main protein sources.
The high protein and carbohydrate levels provide extra energy to Yorkies. The vegetables in the ingredients like peas, carrots, and potatoes  also give your dog all the fiber and antioxidants it needs. These micronutrients ease digestion and ensure that small breed dogs immune system remains stable.
Omega-3 and omega-6 fatty acids work to keep Yorkies skin and coat healthy. Blue Buffalo has included patented LifeSource Bits—a blend of vitamins and minerals— that address small breed life stage needs.
Blue Buffalo small breed food is also completely natural and contains no chicken (or poultry) by-product, wheat, soy, corn, or artificial flavors enhancers and preservatives.
2. Cesar Wet Puppy​ Food
Protein: 9%
Fat: 6%
Fiber: 1%
Calories: 113kcal/3.5-oz. tray
This gourmet food contains chicken and beef as its main ingredients, perfect for your Yorkie puppy high protein needs. It is completely grain-free dog food, and so will not trigger any allergic reactions in grain-sensitive dogs.
Cesar Puppy Food is fortified with vitamins and minerals that will help your Yorkie puppy get all the protein and carbs needed for healthy growth. The healthy fat content also helps to keep your dog's skin and fur healthy.
This dog food can be eaten on its own, or as a topper to make dry kibble tastier. This formula also adheres to the nutritional levels required by AAFCO to ensure complete and balanced nutrition for your fast-growing Yorkie puppy.
3. Iams Proactive Health Smart Dry Puppy Food
Protein: 29%
Fat: 17.5%
Fiber: 4%
Calories: 465kcal/cup
Iams Proactive Health Puppy Food has all the nutrients necessary to give your Yorkie puppy all the energy and strength they need to grow.
Yorkies are small dogs that need high calories than large breeds, in the correct amounts. The ideal dog food for Yorkie puppies should contain high protein and fiber levels, and moderate fat, which Iams Health Smart provides.
Real chicken is the main ingredient to support lean muscle growth. Iams has also thrown in fiber in the form of wholesome veggies for easy digestion, and wholegrain for carbs.
This dog food also features omega-3 DHA that supports brain function and eye health, along with 22 critical nutrients found in mother's milk to support the strength of the puppy's immune system.
Pros
Contains high levels of lean protein from chicken and eggs for strong muscle growth
DHA fatty acids support brain function and vision development
Affordably priced
Has the right protein-fat content ratio to provide plenty of energy for your pup
Cons
Some puppies develop diarrhea on first trying this food, but this goes away with time
4. Eukanuba Breed Specific Adult Dog Food for Yorkshire Terrier
Protein: 28%
Fat: 18%
Fiber: 4%
Calories: 458kcal/cup
Eukanuba dog food contains lots of lean animal protein, glucosamine, and chondroitin for the overall health of your dog's muscles and joints. It also provides sufficient amounts of Vitamin E and DHA fish oils to support brain function and mental clarity.
This dog food brand uses real chicken as its main ingredient, supplemented by chicken fat for superior protein-fat content. It also contains rice and whole barley that eases digestion. The unique fiber formulation from natural beets eases digestion in Yorkie with a sensitive stomach. The unique Denta-defense formula keeps tartar from building up on your Yorkie teeth and gums.
Additionally, omega fatty acids, as well as zinc and copper minerals, work to promote healthy skin and coat.
Pros
Great small size kibble that's easy for your Yorkie to chew and swallow
Gives your dog amazing energy to support their active lives
Minerals and fatty acids promote a healthy, shiny coat
Does not contain the greasy residue present in some low-quality dog foods
Cons
Can result in a dull, coarse coat in some small breeds
Can cause bad breath in some dogs
5. Royal Canin Adult Breed Specific Dry Dog Food for Picky Yorkies
Protein: 26%
Fat: 16%
Fiber: 5.3%
Calories: 338kcal/cup
Royal Canin Yorkshire Terrier Dry dog food perfectly meets the nutritional needs of Yorkies ten months and older. The kibble size perfectly matches your Yorkie's small muzzle, making it easy for them to chew and swallow.
Royal Canin has formulated this dog food for healthy aging, including specific nutrients that help to support long-term health.
Omega-3 and omega-6 fatty acids, as well as biotin work to maintain Yorkies long hair, skin and coat. Glucosamine and chondroitin support the health of bones and joints.
Yorkies are picky about their food and Royal Canin's high palatability with an exceptional aroma is best suited for their picky appetite. 
Taurine is also present in small amounts and is vital in preventing the onset of heart disease later in life. This dog food can be hydrated with water or mixed with wet dog food to provide different eating experiences for your dog.
Pros
Best for picky eaters
Easily digestible
Great kibble size suitable for small breed Yorkies
The crunchy, small kibble keeps tartar build-up away from your dog's teeth and gums
Strong (but not unpleasant) scent to tempt picky eaters
Cons
Slightly more expensive than similar dog food brands
Some small dogs find the kibble a little bit hard to chew
6. Hill's Science Diet Wet Dog Food for Teacup Yorkie
Protein: 26%
Fat: 18%
Fiber: 1.7%
Calories: 116kcal/165g-can
Hill's Science Diet Adult Small Paws Chicken & Barley is tailored for the unique high-caloric needs of toy breeds —including Teacup Yorkies. It has real chicken and pork liver for muscle growth and barley to ease digestion.
This premium dog food is made with all-natural ingredients and contains no artificial flavor enhancers or preservatives. It also has choline, calcium, Vitamin A, and Vitamin C, among other beneficial micronutrients to support skin and coat health, immune health, and joint and bone health.
Pros
Best for Teacup Yorkies
Lists quality, real protein (chicken) that supports muscle development
Easy to digest due to the whole grain barley content
Suitable for picky eaters
Can be mixed in with dry kibble for a more substantial meal
Cons
Slightly expensive, but wet dog food is more expensive than dry kibble
Contains corn, which some dogs cannot tolerate
How to Choose the Best Dog Food for Yorkies
Yorkies need high protein, high carb foods to keep up their energy levels. Fats are best incorporated in moderate levels, and fruits and veggies, as well as micronutrients, provide fiber and supplemental health support.
Age, existing health conditions, and activity levels will determine the proportion of nutrients ideal for your dog. We break down the main factors to consider picking the best dog food for your Yorkie in our comprehensive buying guide below, which is in line with AAFCO guidelines.
Things to Consider When Buying Dog Food for Yorkies
Related: Best Dog Food for Small Dogs
Nutritional Needs of Yorkies
Calories
Yorkies need food that is high in protein and fats and low in carbs. These small breeds have high energy and need about 250 to 400 calories per day to keep them healthy and energized. Avoid foods with empty fillers, which don't have any nutritional value for your dog.
Proteins
Real animal proteins like lamb, chicken, and beef give your dog all the protein they need. Proteins should constitute 28% to 32% of dry weight matter. Plant proteins, although excellent, do not provide the ten essential amino acids that small breeds need for optimal health.
Animal by-products like liver or heart, are also useful for your dog. They contain added blood, bones, and other nutritional nuggets that will support your Yorkie's muscle growth.
Carbohydrates
High-quality carbohydrates provide the energy your dog needs to move and play. Look for wholesome carbs like whole grain, fruit, and veggies and make sure they are present in moderate to low levels. Sweet potatoes, carrots, rice, barley, and fruit, are excellent examples of healthy carbs that will be converted into usable energy for your dog.
Fats
Healthy dog food should contain 12 to 15% fat content. Fats are essential for the nervous system and skin and coat health. Look for omega-3 and omega-6 fatty acids that will boost your dog's brain development and mental acuity.
Vitamins and Minerals
Micronutrients supplement your dog's overall health and increase their lifespan. Vitamin A helps with cell development, while Vitamin C boosts the immune system. Vitamin B assists in metabolism, Vitamin E is vital for coat health, and Vitamin D is necessary for proper bone development. Glucosamine and chondroitin are essential for joint health and sodium and potassium required for the proper functioning of muscles.
Fiber
As with all small breed dogs, Yorkies need fiber to ensure that they digest their food quickly. Fruits and veggies are healthy sources of fiber. Look for rice and barley on your dog food's ingredients label, whole grains that will ensure your dog doesn't get constipated.
Life Stage of Your Yorkie Dog
Puppies require higher amounts of protein and fats than adults. In the first weeks of life, mother's milk is best as it contains immune-building properties. A 4 to 8 week a Yorkie puppy should be given solid food indiscriminately, but after this age, you can feed your puppy ¼ to ½ cups of food daily.
Puppies generally need more carbohydrates because of their physical activity.
Adult Yorkies require 150 to 200 calories per day, depending on their activity level. A high protein and fat level are essential for this breed as they do not stop moving. Carbs will provide energy, ensuring that proteins and fats go towards building muscle and supporting the dog's nervous system.
Senior Yorkies experience reduced energy and muscle deterioration and will need higher protein levels to support their life stage. Only keep to low protein levels if your elderly Yorkie has a kidney problem.
Yorkies Health Conditions and Special Dietary Needs
Bone and Joint Health
Yorkies are susceptible to Legg-Perthes disease, which occurs when the cartilage around the femur cracks due to insufficient blood supply. This disease manifests as a noticeable limp or as the onset of lameness.
This breed may also suffer from a floating knee cap, also known as luxating patella. Diet can help to prevent this condition, which may require your dog to wear a canine knee brace.
Your dog's food should contain plenty of calcium, phosphorus, glucosamine, and chondroitin to maximize their bone and joint health, alleviating or preventing such ailments.
Healthy Skin and Coat
Yorkies have luxurious coats and need nourishment to keep their skin and coat healthy. Vitamin E, omega-3, and omega-6 fatty acids are ideal for a healthy coat that will otherwise shed if not nourished. Make sure to brush your dog's hair regularly, or it will tend to tangle or hold on to unhygienic feces.
Digestive Health
Fiber is essential to maintaining your Yorkies digestive health. Healthy carbs in the form of wholegrain, fruit, and veggies, will prevent your dog from getting constipated. Probiotics and fructooligosaccharides also aid in digestion by encouraging the growth of good bacteria.
Food Allergies
Yorkies can be allergic to soy, wheat, eggs, and some animal by-products. They may also react to pollen and household cleaners. Watch out for skin irritations, diarrhea, ear infections, and bloodshot eyes, which may indicate that your dog has reacted to an allergen.
Eye Health
Yorkies also suffer eye conditions such as retinal dysplasia. This condition is a genetic condition that affects the retina of your dog. To prevent this or support an existing condition, ensure your dog gets lots of fruit and veggies for Vitamin A, as well as antioxidants to keep up their overall health.
Weight Management
Small breeds can quickly become obese if they have a high carb diet. As much as possible, your dog food should have moderate to low carbs in keeping with your dog's activity level. Excess carbs will result in unplanned weight gain, which can be hard to shed.
Related: Best Dog Food for Weight Loss
Frequently Asked Questions (FAQs)
How Much Should You Feed a Yorkie Puppy?
Feeding amounts for Yorkie puppies vary between ¼ to ½ cup of dry food daily. These tiny pups should be eating 3 to 4 times per day after four months of age.
Until they reach four months old, food should not be regulated. This consideration is essential to prevent hypoglycemia, which Yorkies are prone to. When your puppy attains four months of age, a 2-to-3-times a day feeding schedule can be established.
How Much Should You Feed an Adult Yorkie Dog?
Adult Yorkies can make do with 150 to 200 calories per day, being fed two times a day. At this stage, adjust feeding requirements depending on your dog's activity level. If you are giving your dog homemade dog food, reduce the portions as homemade food is often higher in calories.
½ to ¾ cups of food per day will suffice, split into two meals.
Avoid giving your dog scraps from the table as this can cause health problems and unplanned weight gain.
When Should Yorkies Switch from Puppy Food to Dog Food?
At 9 to 12 months, your Yorkie can switch to an adult diet. Your dog will need 400 calories per day to satisfy their growing nutritional needs. Feeding can be kept on schedule, at a recommended 2 to 3 times a day.
Which Ingredients Should You Avoid Feeding Your Yorkie?
You should avoid artificial flavor enhancers, preservatives, dyes, and filler ingredients when buying your Yorkie food. If your dog food contains ethoxyquin as a preservative, do not buy it, as it is harmful to your dog.
Also, avoid wheat, corn, soy, grapes, raisins, garlic, chocolate, and peanut butter made with xylitol, as these ingredients are harmful to not only Yorkies but all dogs.