Best Puppy Food for Labs 2022
Lab puppies are one of the fast-growing dogs and they need a high energy diet 🐕.
Their food requires a healthy balance of protein and complex carbs to help Labs grow and become the best dogs they can be. The good news is there are plenty of puppy foods available that are suited for Labs growing needs.
But usually, dog owners get overwhelmed by the wide range of puppy foods and end up experimenting with different dog food brands.
It's important that you settle your lab puppy on a specific diet. That would really help your Lab to not only enjoy his food but also help in its growth and development.
Here are 8 best puppy food for labs that are healthy, and popular choices among lab owners 🐾.
Our Top Rated Labrador Puppy Food
1. Hill's Science Diet
# 1 Veterinarian recommended
Contains DHA from fish oil
Optimum level of calcium for Labs
2. Wellness Complete Health
Contains essential nutrients for healthy development of lab puppies
All-natural recipe
3. Purina Pro Plan
Most Economical
High Protein Recipe
Contains Glucosamine
Best Puppy Food for Labs 2023 - Reviews
Hill's Science Diet dry puppy food is specially made for large breed puppies like Labradors. It is the #1 Veterinarian recommended dog food in America and contains high-quality protein content with chicken as its primary protein source.
Since this puppy food formula is for large breeds consumption, it contains the right amount of protein and other nutrients for Labradors to be strong and healthy. The high quality proteins listed in the ingredients make Hill's Science Diet the best dog food for Labrador puppies to build and maintain lean muscle while they are growing.
The optimum level of Calcium and other minerals in this puppy food promotes healthy bone growth and teeth development in Labradors. It also contains DHA from fish oil to support the cognitive development of puppies.
Hill's Science Diet puppy food is made with natural ingredients and free of artificial colors and preservatives.
Wellness Complete Health Puppy Food is made specifically for large dog breeds and contains all-natural ingredients that are balanced for your lab puppy. It features a large kibble size, chicken meal, and added vitamins like DHA.
The puppy food recipe contains Omega fatty acids that are good for healthy skin and shiny coat in Labs. Blueberries, spinach, and flaxseed in the ingredients promote easy digestion and a healthy weight gain in Labs. As a bonus, these fruits and vegetables also make the food high in antioxidants.
The main source of protein and carbs are chicken, salmon, and rice. Wellness Complete is free of wheat, corn, soy, meat by-products, artificial flavors, or any other undesirable ingredients, either.
The price of the Wellness puppy food is slightly above average, but the quality is higher, so it's well worth it. Their use of healthy ingredients with no preservatives makes this product a top choice.
Purina Pro Plan is moderately priced compared to other available options. This brand continually runs sales on their products and offer you great value.
The first ingredient in Purina Pro Plan is high-quality chicken which is an incredible source of clean protein. High amounts of protein allow your lab pup to build lean muscle and stay healthy. This product also contains Glucosamine which can help prevent and alleviate common joint issues that labs are predisposed to.
Most other products on this list do not mention Glucosamine, so just that ingredient alone makes this a top choice for your lab. Purina Pro Plan also includes DHA in their recipe, which helps promote healthy vision and brain development. The blend of chicken and rice in the formula is an excellent source of protein and nutrients that are required for puppies under 15 months old.
When taking everything into account, the price you pay for the formula you are getting is an incredible value. This formula is also available in grain-free chicken as well as a lamb meal and rice version.
Nutro Wholesome Essentials Natural Puppy Food is another high protein food and excellent for Labs. It contains chicken as it's #1 ingredient which is a good source of protein. This product is meant for Lab puppies up to 18 months old and is specially formulated for large breed dogs. Labs have particular nutritional needs to sustain their fast growth and keep them as healthy as possible.
This product contains vitamins to keep Labs healthy in it's growing stages. An important vitamin this food contains is Vitamin E. This vitamin is known to support a healthy immune system in puppies to prevent them from getting sick.
Nutro Wholesome puppy food also contains essential supplements like Omega-3 and Calcium. Omega-3 Fatty acids support growth in Labs and strengthen their joints. Calcium helps in bone development of young Labs.
These supplements are essential to keeping your labrador puppy healthy and allowing them to reach their full potential while they are still growing.
ORIJEN Large Breed Puppy Food is one of the highest-priced per pound options on this list. But, ORIJEN offers the best protein-rich diet for Lab puppies.
Orijen puppy food contains both fresh and raw animal ingredients, including free-run chicken, turkey, wild-caught fish, and cage-free eggs. This varied high protein and raw diet can help Labrador puppies gain healthy weight, develop appropriate muscle mass, and reduce stress on their developing bones and joints.
Although ORIJEN has some of the most expensive dog food on the market, you truly get what you pay for with this product. Other dog food brands don't have high quantity of fresh or raw meat in the ingredients like Orijen
Orijen aims to produce a "biologically appropriate dog food," and this is shown in the whole-prey diet that is featured in the recipe.
Blue Buffalo Wilderness large breed puppy food features real chicken as the main ingredient for strong muscle growth in Labs. A recipe made to satisfy Labs natural love for meat.
Blue Buffalo Wilderness is 100% grain-free and includes vitamins such as DHA and ARA which is good for development in Lab puppies. It also contains important fatty acids that are found in mother milk to support the retinal health and cognitive development of Labs.
Blue Wilderness puppy food contains LifeSource Bits which is a proprietary blend with specific vitamins, antioxidants, and minerals. This blend promotes a healthy immune system and a healthy oxidative balance for Labs.
Eukanuba is one of the most cost-effective puppy foods on this list. Eukanuba dog food brand has an excellent reputation and also commonly recommended by Veterinarians.
It is recommended for Lab puppies under 15 months old and contains a variety of ingredients that will keep your Lab healthy. The first ingredient listed is high-quality chicken which is an excellent source of protein for your growing Lab puppy.
Eukanuba contains a portioned amount of fat and carbohydrates which will sustain the energy of your puppy and give them the fuel they need. Their ACTIVadvantage formula is designed to support mind, body, and energy levels making for a happy, healthy, smart Lab.
Eukanuba is an excellent example of where the price is not necessarily indicative of quality. This Lab puppy food is a superb option at an affordable price.
Royal Canin Labrador Retriever dry puppy food is uniquely formulated for your pure breed puppy. Whether you have a Chocolate Lab, Yellow Lab, or Black Lab, this exclusive diet is tailor-made for Labrador puppy with specific nutrients for their growth.
Among dog food brands, Royal Canin is specifically known to make breed specific foods for many dog breeds like German Shepherd, Pitbull, and others.
Royal Canin has a mix of vitamin E and antioxidants to support Labs immune system development along with a strong growing body. Other nutrients in the Royal Canin like Phosphorus and Calcium develop healthy bones structure of Labs. An overall balanced energy content in Royal Canin help Labs gain and maintain an ideal weight.
Labs digestive system is supported with a good source of protein along with prebiotics in Royal Canin puppy food. As a result Lab puppies also tend to have a soft and optimal stool.
Royal Canin also features specifically designed kibble for Labrador puppy. The doughnut-shaped kibble is easy for labs to pick and chew. Optimum kibble size help puppies breakdown their food before swallowing and promote good digestion.
This product is more expensive compared to most of the products on this list, though, given its specialized formulation. However, if you want to make absolutely sure your Lab puppy is getting balanced nutrition perfect for their breed, the price is more than justified.
Royal Canin is also available for adult labs, making transitioning from puppy to adult dog food easier.
How to Choose the Best Puppy Food for Labs
There are a variety of different factors to look at when deciding on the best puppy food for your lab. Some of the main things to look at are the ingredients, dog size listed on the food, breed-specific elements, and price. Every dog is different, and each dog requires a different type of puppy food.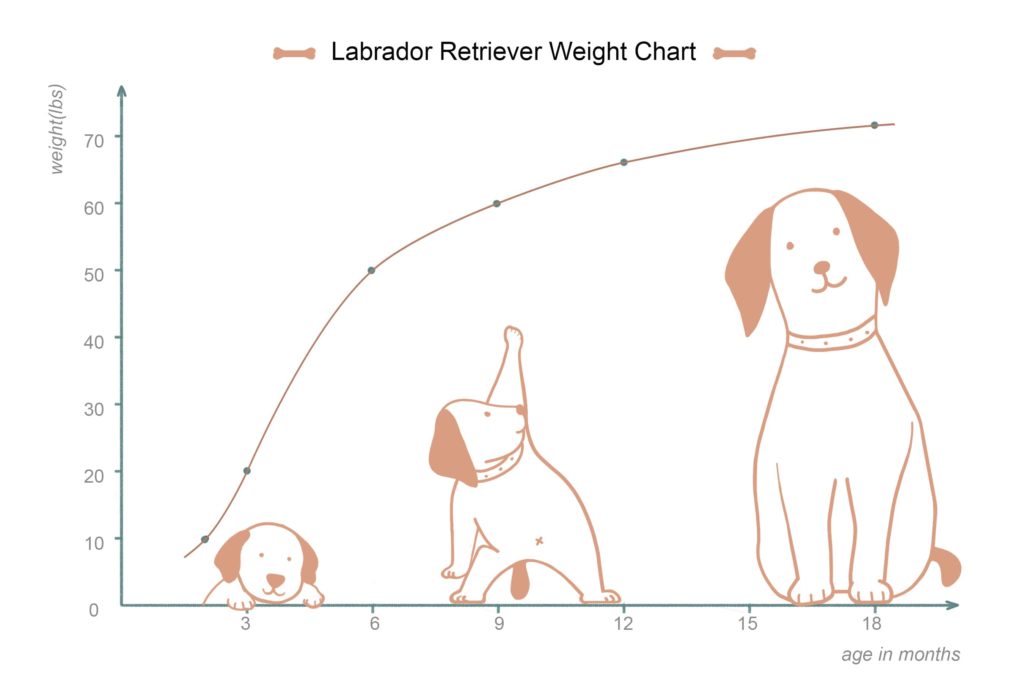 Out of these factors, ingredients are the most important thing to consider. High protein content is a must. Protein will assist in the rapid growth of your puppy and helps them build strong and lean muscle. Other ingredients like healthy fats, carbohydrates, and some vegetables are essential to the growth of your lab puppy. Be sure the formula you choose also contains Chondroitin and Glucosamine.
The size of your dog or dog breed can determine which type of food you choose. If you own a labrador puppy, look for dog foods specifically for large breed puppies or lab puppies. Keep in mind that the more targeted the food you choose is, the more it is likely to cost. You'll need to weigh the pros and cons of buying a lab-specific food over just a large breed formula.
Price can be a determining factor in the puppy food you choose for your lab as well. Although some products reflect the price, others will contain the same ingredients but cost more. Don't let price alone lead your decision but be sure to stay within your budget. We all want only the best for our fur friends, but finances can be limiting.
What Features to Look for in Labrador Puppy Food
Some of the most important ingredients to look for in a lab puppy food are high-quality whole proteins, reduced fats, minerals and vitamins, and vegetables. These ingredients, combined in the exact recipe, can make the perfect puppy food for your lab.
Proteins
Proteins are one of the most vital ingredients to look at overall. Puppy food with high protein ensures that your puppy can grow and get stronger. A few examples of protein-rich ingredients are chicken, turkey, and sometimes red meat like a lamb. Named meat should always be the #1 ingredient in your dog's food. Avoid any brand that uses meat by-products.
Reduced Fats
A moderate amount of fat in a puppy's diet is essential, but some puppy food brands contain high-fat content. A fat content that is too high could cause your dog to become unhealthy and sick. Most brands that are listed as reduced-fat are a safer alternative unless you can check the fat content in the food beforehand. Fiber can also help prevent your pup from becoming overweight, as well as probiotic or prebiotic ingredients.
Vitamins and Minerals
Vitamins and minerals are some more important ingredients to look out for. One of the essential vitamins to look for in your puppy's food is Glucosamine. Glucosamine is proven to increase joint health, and this is a vital ingredient to any lab puppies' diet. Labs commonly experience joint problems at some point in their life and its best to take a step to prevent it even when they are still under 15 months.
FAQs
Is Labrador Puppy Food Expensive?
In most cases, brands that offer specific food made for lab puppies can be quite expensive. For example, the ORIJEN brand can cost up to $100 for a 25-pound bag of food. It is always recommended to get a brand that offers breed-specific food if possible, but only if you can afford to do so long-term. Frequent dog food changes can be very hard on a puppy. You want a brand you can stick with, preferably into adulthood, so aim for brands with similar food for adult dogs of their puppy formulas.
If you are not able to afford a breed-specific food, brands that list large breeds on their products can sometimes be as good or better. Some brands are listed as general large breeds but still contain Glucosamine and other vitamins that are beneficial to a lab puppy.
What do Labrador Puppies Need to Eat?
Labrador puppies prefer to eat protein-rich diets with proteins like chicken and healthy carbohydrates. There are many brands that offer recipes which contain foods your dog would be consuming in the wild. Not only do they prefer to eat these types of food, but they will be sure to get enough nutrients each day as nature intended. Along with the Food, you can also give your lab some puppy treats that would be helpful in training and as fillers between the meals.
Other factors can determine what your lab puppy will eat as well. Things like the age of your puppy and their size can be significant. The bigger your puppy is, the more food and nutrients it will require to grow. Older puppies may eat more as well but should be fed less frequently than younger puppies.
What Foods to Avoid for Labrador?
There are many foods that labs should not eat, and unfortunately, some of these are in many puppy foods on the market. Some examples of these would be white flour, gluten, corn syrup, and soy. These ingredients are harmful to your dog and can be found in many commercially available puppy foods on the market. It is best to try and avoid these ingredients in your puppy's diet.
Some other examples of things to look out for in your puppy's food are excess salt, sodium nitrate, farmed salmon, and MSG. These ingredients have been proven to be unhealthy for dogs of all breeds and sizes, and it's important that their food does not contain any of these in excess amounts.
How Much To Feed Lab Puppy?
Depending on the age of your lab puppy, the amount of food you feed them will change. The formula of the puppy food you choose will also play a factor, so it's best to refer to the bag for guidance. In general, though, most puppies under three months old, need fed ½ cup of food 3-4 times per day. As they get older, the amount of food should stay the same, but the frequencies of feeding may decrease. Pay attention to your dog and adjust your feed schedule accordingly. A hungry puppy may chew on household items more frequently, for example.
As a large breed, most labs are ready to switch to adult food twice a day by around 18 months of age.