Best Senior Dog Food - Comparison and Reviews
Your dog's digestive system changes as he gets older. To avoid issues, such as constipation, excessive flatulence, or diarrhea, you should feed your senior dog with food that's more amenable to his aging tummy.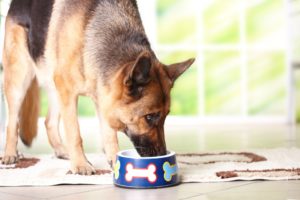 As your dog ages, he'll also need a specific balance of nutrients to support his aging joints, declining muscle mass, and overall declining functionality.
This requires high-quality, age-appropriate dog food. That means dog food with high fiber content, minimal calories, and an adequate balance of fat and protein levels.
To help, we've put together a list of the best senior dog foods for ensuring the longevity and physical and mental wellness of your wizened pooch. 🐕
Best Senior Dog Food 2023 - Reviews
1. Blue Buffalo Protection Formula Senior
As the name implies, the Blue Buffalo Life Protection Formula is designed to protect the health of your senior dog. It's a dry food that accomplishes this with a specialized formula that boosts their longevity, as well as mental and physical functionality.
It's easy to digest chicken and brown rice content contain a rich balance of nutrients – The high protein content maintains tissues and muscles, while the carb content provides energy.
Blue Buffalo Protection Formula further boosts its nutrition profile with its proprietary LifeSource Bits. LifeSource Bits consists of seven essential minerals and vitamins that keep your dog youthful by boosting his immune system and vitality. It also contains natural omega-3 fatty acids that maintain the gloss and strength of his coat and skin.
Because it doesn't contain grains like wheat, corn, or soy that can lead to allergic reactions, you know your aging best friend is in good hands when eating Blue's Senior Protection Formula.
Pros
Dry dog food with a long shelf life
Available as a 6-, 15-, and 30-pound bags to match your budget
Suitable for all dog breeds
Real meat is the first ingredient
High-quality protein content boosts muscle health
Contains natural vegetables and fruits that deliver a healthy balance of vitamins and minerals
Healthy fiber content to aid your aging dog's digestive system
Contains glucosamine, calcium, phosphorus, and chondroitin that aid healthy joints
Proprietary LifeSource Bits delivers antioxidants, vitamins, and minerals that support the immune system and ensure a healthy oxidative balance
No artificial or harmful ingredients
Cons
Available in only one recipe
2. Wellness Complete Natural Food for Small Breed Senior Dogs
Wellness Complete Natural Food is a dry senior dog food that is highly recommended for smaller breeds. It comes in the form of small kibbles that you can feed in the form of treats or as a standalone meal.
It contains a unique balance of nutrients that keeps old dogs lively and healthy without compromising on flavor. Its recipe primarily consists of turkey and peas for a rich balance of premium proteins and healthy carbs.
It contains no unhealthy grains, such as wheat, corn, or soy, that may cause an allergic reaction in small breeds. Instead, what you get is a balance of vitamins and minerals to keep your small senior dog alive and well for many more years.
Each kibble contains deboned turkey and is rich in chondroitin and glucosamine. These are vital nutrients that'll keep your dog's joints and hips sturdy. This senior food recipe contains no artificial additives or preservatives and will help keep your dog healthy at ideal body weight.
Pros
Helps maintain senior dogs body weight
Promotes a healthy digestive system
Its Omega fatty acid content will keep coat and skin healthy
Low sodium content ensures the heart health
Made in the US
Delivers a rich nutrient profile without compromising on taste
Keeps the aging bones and joints healthy
Cons
Only suitable for small dogs
3. Nutro Senior Chicken Nutritious Nutrients
Nutro senior food comes in a delicious recipe that your senior dog won't be able to resist. Every bite is packed with a perfect balance of high-quality ingredients and nutrients to boost the length and quality of your dog's life.
Its rich protein profile consists of chicken, lamb, and salmon. The salmon is an important addition because it delivers a healthy dose of Omega-3 and -6 fatty acids that keep your senior looking beautiful and his mind sharp.
Other excellent ingredients in this senior dog food are coconut, sunflower oil, tomatoes, flaxseed, kale, apples, carrots, egg, pumpkin, spinach, chia seeds, and blueberries. All these superfoods ensure that each serving is rich in antioxidants and other life-giving nutrients.
For safety, there is no wheat, soy, corn, artificial additives, or preservatives in the food ingredients.
Pros
Best affordable food for seniors
Contains 12 superfoods that make it far healthier than a majority of other senior dog foods
It's made with real farm-raised chicken
Chondroitin and glucosamine minimize the risk of arthritis or other joint disorders
Gluten-free but contains all the essential vitamins, antioxidants, and minerals
Available as beef or lamb recipe variants
Comes with a money-back guarantee
Cons
Some dogs may have an allergic reaction to one of its many ingredients
4. Nulo Senior Grain Free Dog Food
This is among the best grain-free dog foods for senior dogs with joint or hip disorders. This is because of its rich Glucosamine and Chondroitin content. It also has a high protein content thanks to its trout and turkey content, which deliver a healthy balance of protein and fats.
Because Nulo only uses lean proteins, each serving contains a healthy amount of calories to help manage your dog's weight. Its grain-free recipe also makes it ideal for sensitive tummies, while its exciting taste makes it the right choice for picky eaters.
Pros
A great choice for dogs with joint or hip disorders
Contains no gluten or artificial additives
Made in the US
There's a chunk of meat in every bite
Vital Omega fatty and amino acids for healthy fur and an active lifestyle
Probiotics ensure the presence of healthy bacteria in the sensitive stomach
Available in a 4.5-, 11-, and 24-pound bag to match your budget
Cons
You might consider it a bit pricey
5. Wellness Complete Health Senior Dog Food for Large Breeds
This variation of the Wellness Complete Health Natural Dry Dog Food is ideal for medium to large breeds. It's chicken and oatmeal content is grain-free but contains a healthy blend of proteins, vitamins, and minerals. The oatmeal content is especially important as it's rich in fiber, which promotes healthy bowel movement in older dogs.
The high protein content delivers strong muscles and a robust immune system. The other contents combine to give your large dog a healthy heart, sturdy joints and hips, and boundless energy.
6. Science Diet Senior Defying Chicken
Science Diet makes life easier for dogs as they get on in years. It's easy to digest and contains a combination of ingredients that aid the kidney and renal functions of your old dog.
It also contains a blend of antioxidants that boost your dog's immune system. Its rich chicken content makes the food appetizing and provides healthy protein content. In the unlikely event, you or your dog don't enjoy this meal, you'll be happy to know it comes with a 100% money-back guarantee.
Pros
It's ideal for senior dogs over the age of 11
All-natural ingredients from wholesome grains, vegetables, and fruits
Easy to digest and highly nutritious without compromising on flavor
Made in the US
Omega-6 fatty acids and vitamin E for healthy skin and a shiny coat
No harmful ingredients or substances
Cons
Only suitable for small breed senior dogs
7. Canidae Meadow Senior Formula Chicken
This grain-free dry dog food formula provides your best friend with the right balance of nutrients to keep him active in his old age. It contains no additives or other harmful elements, and is also grain-free, making it ideal for senior dogs with sensitive tummies.
Aside from being safe, a bowl of Canidae PURE is healthy, containing probiotics to aid senior dogs digestive system, and antioxidants to boost his immune system. Each bite is also rich in Omega-6 and -3 fatty acids to keep the fur and skin healthy and beautiful.
Depending on your dog's palate, you can get the salmon, lamb, duck, bison, boar, or chicken recipe in Canidae.
Pros
Uncomplicated whole-food recipes that let you know exactly what you are feeding your senior
Made in the US
High nutrient content, including Omega-3 fatty acids
Uses high-quality meats as its first three ingredients
High protein content builds muscles but control weight
Probiotics content aids proper digestion
Cons
8. Science Diet Youthful Vitality Chicken
Science Diet Youthful Vitality Chicken is highly recommended by vets as one of the best senior dog foods for its effectiveness and deliciousness. It's designed to help maintain the quality of life of senior dogs above seven years old, and you can get it as either a wet or dry food.
It contains a variety of nutrients to keep your dog strong and healthy as he ages. Said nutrients include amino acids, ascorbic acid, minerals, and vitamins that reduce the negative effects of your dog's aging and boost his immune system.
It may be a bit pricey, but it's a worthwhile investment for your older dog's health and happiness.
Pros
Keeps the energy levels up
No artificial colors, flavors or preservatives
Available as dry food or wet food
You can get it in one of two recipes—chicken & rice, or chicken & vegetable stew
Combats the effects of aging
Suitable for all breeds
Supports brain function and energy levels at the old age
Made in the US
A top choice among veterinarians
Cons
9. Purina Smartblend Vibrant Maturity Formula
Whether you opt for the chicken recipe, or the turkey & barley recipe, Purina Smartblend for senior dogs is going to keep your elderly best friend healthy. Each bag of Purina senior dog food contains a high-quality blend of natural ingredients, vitamins, and minerals. These keep the energy levels, physical performance, and mental sharpness up as it ages.
You can get Purina Smartblend as either a wet or dry dog food. Either way, your dog will be getting a top-quality, high protein diet that doesn't compromise on flavor.
Pros
Suitable for dogs above seven years old
Supports the heart of your dog and boosts muscle growth
Real pieces of chicken
No artificial additives
Veterinarian recommended
Promotes mental and physical health
Available as dry food or wet food
Cons
The barley option isn't suitable for dogs with grain or gluten allergies
10. Avoderm Natural Chicken Formula
Avocado is a superfood that your aging dog can benefit from. AvoDerm agrees, which is why they add it to their AvoDerm Natural Senior Dry Dog Food.
Beyond avocado, this unique senior dog food recipe contains alfalfa meal, dried tomatoes, and peas. Combined with the food's chicken and brown rice content, your dog has a highly nutritious and tasty meal to dig into.
Its EPA and DHA content also reduces the risk of your aging dog suffering from inflammation or chronic heart disease. There are also fatty acids for promoting skin and coat health.
Pros
Features a perfect balance of high-quality proteins and healthy carbs
Chondroitin sulfate and glucosamine support your aging dog's joints and hips
Avocado provides nutrients that keep the skin and coat healthy and boosts the immune system
No wheat, corn, soy, or artificial additives
Contains various nutrient-dense superfoods
Affordable price
Cons
Not all stores stock this product
11. Eukanuba Senior Small Breed
Eukanuba dry dog food is ideal for small dog breeds above the age of 7 and below 23 pounds. It contains various supplements, including chondroitin sulfate and glucosamine, for supporting joint health. It's also rich in protein to keep your elderly little guy/gal happy and active with strong lean muscles.
Eukanuba's omega fatty acid and DHA content support brain activity, keeping your aging small dog mentally alert. It also contains a variety of antioxidants to boost the immune system. This minimizes the risk of your senior dog, catching some of the common diseases that typically plague elderly canines.
There's also lots of fiber to aid your aging dog's digestive system.
Pros
Antioxidants to keep your dog's immune system strong and capable of knocking down ailments
Supports the muscles, joints, and hips of your dog so he can enjoy an active life in his later years
Keeps the brain healthy so that your senior dog remains alert
Prebiotics and high fiber content to aid your dog's digestive system
Omega-3 and Omega-6 fatty acids for a shiny coat and healthy skin
Contains enough carbs to provide your dog with a healthy dose of energy to conquer each day
Cons
It's not grain-free, which may cause an allergic reaction in your dog
May contain some chicken by-products
How to choose the Best Dog Food for Senior Dogs
Senior dogs digestive system, organs, muscles, and joints start losing the battle against time. Putting your best friend on a senior food diet is crucial to combatting these effects and ensuring he still enjoys a good quality of life in his winter years.
Food for old dogs is specially engineered to contain all the vital nutrients needed to keep them mentally and physically strong. It's also easier for their older stomach to digest, reducing the risk of constipation, or excessing flatulence or stooling.
The best foods for seniors have the following features as standard:
Vet Recommended – Top-quality senior foods have the approval of the veterinary community and are typically prescribed by vets. Before buying, be sure to consult with your vet to verify the food has ingredients that will actually help your pooch. It's an effective way to avoid foods that may do more harm than good to the health of your aging dog.
High-quality protein content – Top-quality foods usually have a higher protein content. The high protein content keeps aging dogs muscles strong and aids the repair of deteriorating tissues. It also prevents kidney diseases. The protein source in the food is also important. Chicken is a common ingredient, but foods that use venison, lamb, and other lean protein sources offer better results.
Antioxidants, omega fatty acids, and glucosamine content – Antioxidants will keep the aging dogs immune system functioning optimally. Glucosamine and EPA will support the aging joints, keeping them mobile and active.
Grain-free – A grain-free diet isn't vital unless your old dog has a grain or gluten allergy. Nonetheless, aging dogs body will benefit more from a diet that provides healthier carbs from low-fat foods like sweet potato, pumpkin, oatmeal, brown rice, quinoa, carrot, banana, and apple. These are easier to digest and won't negatively impact the dog's digestive or immune system.
Avoid artificial ingredients – Foods that contain artificial additives or preservatives, or animal by-products, should be avoided. Studies show that artificial foods can negatively impact aging dogs health, causing issues like allergies, tumors, digestive problems, kidney disease, and more.
You also need to identify aging dogs unique needs and know which food has the ingredients to meet those needs best.
What Things to Consider When Buying Senior Dog Food
To find the food with ingredients to best meet a senior pooch needs, take the following factors into consideration:
Dog Breed
Food ingredients that work best for a senior small breed may not deliver the same quality of results to a large breed.
Small Breed Food: Small breed seniors need food that's rich in protein, and that'll help maintain their weight. If small dogs become overweight, it can cause a variety of health complications. Also, if it's dry food, it should come in kibble size that's small enough to fit into your small pooch mouth and easily chew. If they have failing teeth issue, you might even consider soaking the kibble before feeding.
Large Breed Food: Large breed dogs age faster than smaller breed dogs. They also have shorter lifespans. As such, large breed dogs need foods that contain vitamins and supplements that'll support their bones and joints, and possibly increase their longevity.
Nutritional Needs of Old Dogs
As dogs age, they need food that they will have an easier time digesting. A high protein diet that uses real meat is helpful. Additionally, because older dogs are more prone to becoming overweight, their food must be nutrient-rich without increasing their chances of gaining too much weight.
It's also important that the food contains less sodium and more fruits and vegetables. This will boost the cardiovascular health of old dogs. Finding food with ample DHA, EPA, and glucosamine will support aging joints, while antioxidants will keep his immune system strong.
To keep the skin healthy and fur shiny, Omega fatty acids must also be present in the food.
Food for Different Health Conditions of Senior Dogs
Joint Problems
Most senior dogs suffer from joint and hip issues, such as arthritis. To help with this, ensure that food contains glucosamine, calcium, phosphorus, chondroitin, or all four.
You can further assist aging dogs by adding ingredients like ginger, papaya, and alfalfa to their regular diet. These foods contain essential ingredients that'll help minimize inflammation in the joints. While some of these, such as alfalfa, are common in dog food, you may have to look to treats to add in others.
Constipation
Constipation is another common problem in elderly dogs as their stomachs become unable to properly handle food that they formerly could. You can minimize the likelihood of constipation by feeding them with a high protein diet that's easy to digest and a high fiber diet that aids bowel movement. While looking for high fiber foods, though, avoid filler fiber. You want nutrient-rich sources from fruits and vegetables rather than grains. Feeding seniors with food that contains prebiotics will also help.
Diabetes
If your elderly pooch has diabetes, you can help him live a healthy, happy, and long life by feeding him food that contains high-quality proteins, complex carbohydrates, and fibers. This balanced diet must be supported by regular exercise to keep his glucose level under control.
Kidney Disease
If the senior dog is diagnosed with kidney disease, switching him to wet food that contains minimal sodium will help. More fruits and water, and less high-quality proteins will also help by reducing the workload on his kidneys.
Gum Disease
If your dog's bad breath is worse, or his gums are bleeding, it could be a sign of gum disease. Dry food that's rich in calcium and cleans the teeth as he chews and improves dental health.
FAQs
Is senior dog food necessary?
Dogs that are past their prime require fewer calories than adults that are more active. Too many calories in the diet, and you could end up with an overweight issue, which only increases the risk of health problems.
Dog foods for older pups are designed to provide all the nutrients they need, minus the excess they don't need. For example, they contain more fiber to combat constipation, more glucosamine to combat joint issues, and more high-quality protein to support lean muscle mass.
While switching to a senior diet not be completely necessary, it is useful in keeping your older pup healthy and happy for more years to come.
When to switch to senior dog food?
Different dog breeds age differently. A smaller breed won't be considered a senior until he turns seven. On the other hand, a larger breed is considered a senior by the time he turns five or six.
At these ages, an aging dog's rate of metabolism will reduce. The immune system may also become less effective, making it the perfect time to switch them to senior food.
How much to feed senior dogs?
The amount of food depends on the breed and size. Dogs metabolism rate reduces as he ages, feeding him on the same schedule as before but with smaller portions is advisable. It will reduce his chances of becoming overweight.
Can senior dog food cause diarrhea?
Senior diet can only cause diarrhea if it contains ingredients your dog's stomach doesn't find agreeable. For example, the food may contain artificial ingredients or other ingredients that it is allergic to.
Diarrhea may also be caused by a sudden change in diet. It is why we advise slowly introducing your dog to senior food by mixing it a little at a time with his old food. This will give their stomach time to acclimate to the new diet.