Best Wet Dog Food - Comparison and Reviews
Wet dog food, also referred to as canned dog food, has many plus points over dry kibbles. It's rich in protein and low in carbs with good nutritional value. The high moisture content in wet food is helpful for dogs with dehydration issues or those who don't drink enough water.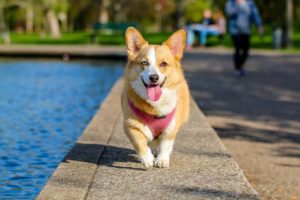 Wet dog food has a good taste and consistent smell making it more palatable to dogs who are picky eaters especially puppies and senior dogs. Wet food is also a good option for dogs with loss of teeth, misaligned jaws, or smaller mouths as it's soft and easy to chew.
We have selected the best wet dog foods that are excellent in nutrition and suit your type of dog. Our list contains careful selection for different dog breeds, puppies and senior dogs. 🙂
Best Wet Dog Food 2023 - Reviews
Taste Of The Wild is our recommended Best Canned Dog Food as it has Real Meat as the #1 ingredient, above-average protein content and a wide range of essential supplements like amino acids for dogs. Plus, a low percentage of fat in this Wet Dog Food gives your dog a well-rounded meal without it becoming overweight.
This Wet Dog Food offers five protein-rich flavors including venison and bison, salmon, wild boar, lamb, and roasted duck. It has 8% crude protein which is ideal for both large dogs and small dogs to gain muscles and healthy weight.
Each can of Taste Of The Wild dog food comes with 1% crude fiber. The prebiotic fiber comes from the sweet potatoes, blueberries, and raspberries that add a nutrient boost to the dog food. It's excellent for dogs that have diarrhea or sensitive stomach as prebiotic fiber promotes healthy digestion.
Taste Of The Wild Canned Food has all-natural ingredients and it does not contain unhealthy preservatives.
With Taste Of The Wild, you can rest assured that your dog is getting the wholesome meal it needs with this top-rated grain-free Wet Dog Food.
Natural Balance wet dog food also lists Real Meat as the #1 ingredient. Dogs can enjoy beef, chicken, lamb, or liver as their primary flavor of choice. Each can of dog food also comes with a healthy complement of brown rice, potatoes, and carrots.
The addition of vegetables into this wet dog food will provide your pooch with a high-quality source of energy. These easily digestible carbohydrates come with Omega-6 and Omega-3 essential fatty acids.
The fiber content is higher in Natural Balance canned food compared to TOTW dog food mentioned above. Although TOTW is the overall best wet food because of its nutritional value, Natural balance has a better fiber percentage along with Omega-6 and Omega-3 fatty acids.  So, if you want your dog to have a lush and shiny coat along with good digestion to avoid diarrhea, Natural Balance Ultra Premium is an excellent choice.
Natural Balance wet dog food is suitable for all dog breeds. This is great for dog owners with multiple dogs at home because this tasty food can be served to German Shepherds, Chihuahuas or any other breed. 
Overall, Natural Balance is a high quality dog food brand. They perform nine safety tests on their dog food to ensure the quality of the ingredients. 
When it comes to all-natural wet dog foods, I and love and you is a leader in the industry. The company emphasis "no fillers, all love" in their dog food, be they beef, lamb, chicken, venison, or lamb. So, you'll find no wheat, corns, soy, rice, artificial flavors, colors, or preservatives. 
I and love and you also keeps its dog food grain-free, which is considered healthier for canines. Instead of grains, I and love and you uses nutrient-rich carbohydrate sources, such as pumpkin, cranberries, and spinach. These grain alternatives will provide your pet with a long-lasting source of energy throughout the day.
Dogs will also be happy to find a sizeable amount of meat in each meal. This dog food is rich in dry-matter protein which is above average than other wet foods. When dog owners buy high protein food, they give their dogs the nutrition to maintain healthy muscles.
Dog owners are also pleased to learn that I and love and you canned dog food come with plenty of Omega-3 and Omega-6 essential fatty acids. These come from superfood ingredients like flaxseed and fish oils and help dogs with a soft coat and healthy skin.
Purina Beneful wet dog food comes with three different meaty menu options, including real chicken, lamb, and beef.
The food contains tender chunks of meat that are mixed with real vegetables and grains to boost the nutritional profile of each serving. The sweet potatoes, peas, corn, and other ingredients combine to provide 23 essential vitamins and minerals. These will ensure that your small dog is living its best life when it comes to health and well-being.
The tender chunks of chicken, lamb, and beef in Purine wet food are ideal for small dogs or those with small mouths. They are also an excellent source of essential amino acids. Each serving of wet dog food comes in a resealable tub too, so you can store leftovers or switch up flavors mid-meal.
Hill's Science Diet wet dog food is tailor-made for dogs ages 1 to 6. 
The recipe includes high-quality protein sources – such as beef and chicken – to build lean muscle, as well as complex carbohydrates. Beef, for instance, is a natural source for all ten of the essential amino acids that your dogs need for a healthy lifestyle.
Hill's Science Diet wet dog food is best as a source of carbohydrates, which come in at 48 percent. 
This wet food also contains a good mix of vegetables like carrots, beet pulp, potatoes, and spinach. The ingredients come with a savory gravy, which many dog breeds who are picky eaters especially enjoy.
Science Diet is also one of the most affordable and best wet food to mix with dry food. The dogs enjoy the taste and think of it as a treat on their dry food.
There is something in Cesar Gourmet Wet Dog Food to please even the pickiest of pooches. The variety packs come with a buffet of menu options, including porterhouse steak, prime rib, grilled steak, filet mignon, and grilled New York strip steak. This meaty food has won over dogs and owners alike, making it the third best-selling canned dog food on Amazon as of January 2020.
The Cesar Gourmet food comes in dining trays for small dogs, including miniature chihuahua, yorkies, schnauzers, poodles, etc. Each dish is a single meal that comes with an easy-to-peel seal, which helps make the serving time a breeze. Cesar also ensures each can meets the nutritional levels set forth by The Association of American Feed Control Officials (AAFCO).
Dog owners can be confident that their dogs are getting the necessary protein in Cesar Gourmet food, as dry-matter readings come in at 50 percent. That is a well-above average compared to other wet brands. The generous dollops of meat do come with pork byproducts, though, which are the remains of pigs found in slaughterhouses.
People who want a high-protein dog food source with no grains can put their faith in Cesar Gourmet Wet Dog Food. However, it is worth noting that the company does use artificial ingredients. That includes sodium nitrate and carrageenan, which some people regard as controversial because of possible long-term health risks.
Beef. Rotisserie chicken. T-bone steak. Filet mignon. These are just some of the flavors available in Purina's ALPO Chop House Wet Dog Food. Regardless of what protein-rich flavor you choose, your dog will enjoy a tender and savory food coated with a delicious gravy.
Each Purina dog food comes with a moderately high level of protein. On average, the dry-matter protein reading is 41 percent, supported by a low amount of fat. As a result, the fat-to-protein ratio is 43 percent which is good for dogs.
Purina also incorporates 23 essential vitamins and minerals, including vitamins A, B, and E as well as zinc oxide and copper proteinate in this wet dog food.
Overall, the product is the 27th best-selling canned dog food on Amazon as of September 2019.
We should also mention that Purina uses anonymous meat products and artificial ingredients in its wet dog food. The unnamed meat products make it impossible to identify any potential allergens in advance. Purina also includes artificial coloring and uses carrageenan as a gelatinous food additive.
Best Wet Puppy Foods 2023
Blue Buffalo Wilderness is a high protein grain-free wet puppy food with Real Meat as the #1 ingredient. Puppies love the high quantity of chicken and turkey in this canned food. The high quality protein is also good for puppies to gain and develop strong muscles.
This canned puppy food also contains DHA, an important amino acid found in mother's milk, to supports cognitive development in puppies.
Blue Wilderness puppy food has about 7% crude fat along with 10% crude protein. This is an optimal protein-to-fat ratio that would help puppies gain healthy weight.
Furthermore, there are no artificial flavors or preservatives in Blue Wilderness wet food so puppies can enjoy a wholesome meal the way nature intended.
Blue Wilderness is our top rated wet puppy food that will help your puppy to stay active, healthy and grow into a strong adult dog.
Written across each Wellness Complete food cans is "Holistic Nutrition for Growing Puppies." Wellness achieves this motto, thanks to its commitment to using 100 percent premium natural ingredients. The company's specially formulated recipes will give your pet the healthy skin, coat, digestion, and immunity it needs for long and healthy life.
This canned puppy food has 9% crude protein. The main sources of protein are meat and flaxseed. The food also contains essential supplements like DHA and Omega-3 fatty acid which are good for puppy's growth.
To be sure that your puppy gets a full range of nutritious supplements, Wellness Complete includes wholesome grains, fruits, and vegetables in food ingredients. These provide a high-quality source of energy, in addition to essential antioxidants and minerals. 
Overall, Wellness Complete Health Canned Puppy Food supports the growth of puppies in their different life stages. The food has essential nutrients to support the puppy's digestive health, eyes, teeth, and gum development.
Cesar is among the most popular dog food brands in the country. The company offers dry and wet variations for puppies of all breeds, ages, and sizes. That includes wet canned dog food for puppies, which features easy-to-eat chunks of meat and a fortified selection of vitamins and minerals.
The only limit to the meat options in the food is in your imagination. Cesar offers puppies porterhouse steaks, filet mignon, chicken, steak, Angus beef, and more. If you think your puppy would like something different every once in a while, you can purchase variety packs with up to six unique recipes.
Cesar emphasizes its use of meat-centric food, which it considers the essential portion of the meal. Puppies will be able to enjoy a hefty amount of meat in each serving, delivering a healthy serving of protein. Cesar's wet puppy food does, however, contain pork byproducts.
Some pet owners may also take issue with Cesar's use of artificial ingredients. That includes artificial coloring to make it more aesthetically appealing to owners.
Best Wet Senior Dog Food 2023
Blue Buffalo Homestyle Recipe is the best soft food for senior dogs. It is very easy to chew for old dogs with failing teeth. The taste is also very palatable to senior dogs who are fussy eaters. Many dog owners have commented that their aging dog stomach issue resolved after shifting to Blue Buffalo canned dog food.
Blue Buffalo wet food also contains glucosamine and chondroitin to support joint health and mobility in older dogs. Arthritis is a common problem in old dogs and most common joint supplements are glucosamine and chondroitin. 
Blue Buffalo has made a name for itself with nutritious wet dog-food recipes that satiate senior canines big and small. The food delivers real beef, chicken, fish, lamb, and turkey that provide a robust source of protein for strong muscles. With that combination, your dogs can stay active in their golden years. 
Blue Buffalo Homestyle Recipe Natural Senior Wet Dog Food has the essential amino acids and nutrients for healthy living. Each recipe includes fruits and vegetables, such as sweet potatoes, cranberries, and carrots. These complex carbohydrate sources also provide high-quality energy for your senior dog.
Blue Buffalo Wilderness is another very good Wet Dog Food for Seniors but a little on the expensive side. The main feature that Senior dogs love about Blue Wilderness is its taste. Whether you have a Pitbull or a picky eater like Chihuahua, they will devour this Wet Food in seconds.
You will also notice that your Senior Dog health considerably improves after this diet. Blue Wilderness Senior Wet Food packs a good amount of protein, fat, and carbs into each meal serving. The sizeable portions of meat will give elderly dogs the strength they need to stay on their feet all day.
Blue Wilderness also has essential supplements like vitamins and amino acids that support the gut and joint health of Senior Dogs.
You should definitely buy Blue Wilderness if your Senior Dog is not eating anymore and becoming sick. Because after switching to this Wet Dog Food, your old pooch would start loving his food again and be healthy and active.
When it comes to hassle-free eating experiences, Purina's Pro Plan BRIGHT MIND Senior 7+ Dog Food makes the top of the chart. All you need to do is open the lid and place the wet food container on the floor. Really. It's that easy.
Feed your Senior Dog to a rich source of protein containing real beef, chicken, or turkey. Each serving comes with a considerable amount of meat, as the dry-matter protein measures 50 percent. Some of that meat is from animal byproducts, though, which come from leftover slaughterhouse carcasses.
Purina food also mixes in vegetables, such as potatoes and carrots, for a consistent source of carbohydrates. Carrots are also rich in beta-carotene, minerals, and fiber. Senior Dogs will also get a dose of Omega-6 essential fatty acids and botanical oils for a healthy coat and increased mental acuity, respectively.
The Pro Plan BRIGHT MIND series is a complete food for dogs entering old age. Owners can expect their four-legged friends to maintain their alertness and general health, thanks to this nutritious food. Note that some of the food products do include grain, and all of them have artificial food coloring.
Buying Guide for Choosing the Best Wet Food for Your Dog
What Things to Look for in Wet Dog Food
Key Ingredients
The essential component of any good wet dog food is whole ingredients. It should also be a rich source of protein to give your dog the nutrition it needs to develop and maintain fitness. With that in mind, the No. 1 ingredient should be meat, whether that is chicken, beef, lamb, or something else.
Generally speaking, avoid processed foods. Whole grains and starches are not the end of the world, but they are not ideal for your pooch's diet. Therefore, if you can, steer clear of wet dog foods with white rice or wheat gluten.
Nutritional Value
The best thing you can do to check the nutritional value of your wet dog food is to visit AAFCO. The organization reviews the nutrient profiles for dog food and conducts tests to see how nutritious the content is. If the AAFCO scores it as "complete and balanced," that is a solid thumbs up.
Food Recipe That Is Ideal for Your Dog
The "best" recipes depend on your dog. Different dog food works better for certain doggy characteristics, such as age, health, and breed. Finding a wet dog food with whole and unprocessed ingredients is a start, but there are some other factors to consider.
For instance, dogs begin losing their sense of smell as they get older. Having an odoriferous recipe will, therefore, attract your older pet to eat a substantial meal. If you have a lean and active dog, on the other hand, you might opt for a diet with higher fat and protein content.
Food Texture That Appeals
The million-dollar question in the dog food world is, "Wet or dry? Generally, wet dog food is softer in complexion, which makes it easier to eat for puppies or older dogs with jaw, gum, or tooth problems. Dry dog food is a viable option too. Its simple storage and low price make it a popular pick for the middle years of a dog's life.
Choose the Flavor That Your Dog Loves
The options are endless when it comes to different flavors of dog foods. If you have no idea where to start, try a variety pack from Purina or Cesar. Blue Buffalo also has a Wilderness line of wet dog foods, which have regional options, such as alligator, fish, rabbit, and venison.
Serving in a Can
Typically, you should give your dog 3 ounces of wet dog food for every 3-3.5 pounds of body weight. The same 1:1 ratio applies for dog food tubs, and owners can replace 3 ounces for ¼ cup of dry dog food if they like. Canned dog food is good for two to three days in the refrigerator after opening.
If you are out of home for long time and cannot feed your pup then consider buying the automatic dog feeder to time the feeding and you can also control the feeder remotely.  
Quality of the Can
Most wet dog food comes in a can. Some companies offer variations with trays and resealable tubs. When it comes to serving dog food from a can, make sure there is no substantial damage. The seal on the top should be unbroken. There should also be no holes or unusual smells before you open it.
Things to Avoid in Canned Dog Food
Byproducts
Meat byproducts are what is left on an animal's carcass after a slaughterhouse finishes with it. The remaining bits that are not fit for human consumption sometimes end up in dog food. These scraps can include but are not limited to feet, livers, lungs, brains, kidneys, stomachs, and spleens.
One of the reasons companies use meat byproducts is that they are cheaper than traditional meat cuts. Also, the byproducts are relatively close in nutritional value to their "normal" counterparts. That said, we recommend that you generally try to avoid dog foods that list these scraps as their first ingredient.
Unknown Ingredients
Knowing what is in the wet dog food is the best way to make an informed decision for the diet and health of your dog. That means knowing what ingredients in dog foods are harmful. Try to stay away from dog foods with anonymous meat byproducts, for instance, for the well-being of your pooch.
Cheap Supplements
Companies that claim to have all the essential vitamins and nutrients in their dog foods aren't always peddling healthier products. A company might use grain, meat scraps, fillers, and additives before adding supplements to fluff up their products. Many brands will add synthetic vitamins and minerals, which are OK, but whole and unprocessed foods are the gold standards for a great dog food.
Contaminated Cans
Keep an eye of for any recalls or potential damage to the exterior of a dog-food can. In the first three quarters of 2019 alone, dog-food companies recalled products for concerns regarding salmonella, listeria, choking hazards, and toxic levels of Vitamin D. Stay up to date with the latest recalls from the U.S. Food and Drug Administration (FDA).
What Should You Consider Before Buying Wet Dog Food
Dog's Life Stage
Dogs have different nutritional needs based on their stage of life. A complete and balanced diet is essential for puppies. An abundant source of protein, vitamins, minerals, and water will ensure your puppy has the energy and awareness to grow up healthy.
Senior dogs, however, require leaner meat when it comes to maintaining their muscle mass. They also need additional levels of fiber and fewer calories to facilitate proper digestion. When it doubt, purchase dog food that works for all life stages.
Dog Breed
The breed of dog you have will, ultimately, influence your dog-food choices. Each type of canine has distinct health issues. Labrador Retriever, for example, is prone to becoming overweight, miniature schnauzers to having high cholesterol, and Dalmatians to getting urinary stones. While the kind of dog you have mattered, avoid breed-specific diets that use ingredients from the same origins as your canine.
You should check whether wet dog food is for a small dog or a large dog. These variations can provide different levels of calcium and phosphorus, for example, based on the dog's needs. If you want more information about how to find the proper diet for your pooch, see our below breed-specific guides.
Dogs with Special Dietary Needs
Every dog needs the same six fundamental nutrients: water, fat, protein, carbohydrates, minerals, and vitamins. Of course, individual dogs have special dietary requirements. These special needs come about when your dog is entering old age or has excess gas or allergies.
If your dog is in its golden years, make sure is gets easily digestible foods that combats potential weight increases. Here are our recommended weight loss dog foods if you are looking to out your pet on diet. Wet Foods are also considered good in weight management because of their high moisture and low-fat content. 
For excessive gas, try to avoid carbohydrate-dense wet dog food with corn, barley, rice, or other grains. Finally, if your dog has allergic reactions, make an appointment with your vet to determine your pet's sensitivities and learn what ingredients to avoid.
Cost
Wet dog food is typically more expensive than its dry counterpart. Even though some companies offer resealable containers, dry dog food is easier to store and can stay out in the open for longer. However, wet dog food can be a superior choice based on your pet's age and dietary needs.
Investing in easy-to-eat dog food is worth the extra money, especially if you have a puppy or senior dog. Canned foods also do not have preservatives, which make them an ideal source of nutrition for dogs with food sensitivities. Furthermore, wet varieties often have lower carbohydrate levels, higher water content, and fewer artificial ingredients that can be worth your while.
FAQs
Should I feed my dog dry or wet food?
Wet and canned dog foods are nutritious options for canines of all ages. Canned dog food is made with less processing, so your pooch is more likely to get a tasty variety of natural ingredients. The moist complexion also ensures that your dog is adequately hydrated, even in dry or hot climates.
Wet dog food is ideal for dogs with chewing or jaw troubles. Kibble can be hard to chew, which can make eating difficult, especially in old age. Older dogs are often more attracted to wet foods, which come with a rich scent and flavor that offsets their deteriorating sense of smell.
Dry dog food is the economical option, and you can store it any cool space in your home. Additionally, the kibble's rigid structure will reduce plaque, stain, and tartar that is building up on your dog's teeth. It is also possible to mix the two. Of course, the option that works best for your dog depends on several factors, which we discuss more in the following answers.
Is it OK to mix wet and dry dog food?
Yes, you can mix wet and dry dog food. Combining the two food types lets your dog enjoy the best of both worlds. They can get the hygienic benefits for their teeth with dry ingredients and the wet food offers excellent nutrition and water.
Deciding whether or not to mix the two depends on the age and health of your dog. If you decide it is the right option for your canine, mixing can be a cost-effective method of purchasing and using dog food. It also can aid in making the food more palatable while controlling weight.
How much wet food equals dry food?
Generally, nutritionists recommend feeding your dog 3 ounces of wet food for every 3-3.5 pounds of body weight. If you want to substitute wet and dry ingredients, 3 ounces of wet food equals ¼ cup of dry. Owners should divide the meals into two or more servings per day.
Can I feed my dog only wet food?
You can feed your dog wet food and nothing else. The most significant drawback is that it is often more expensive than dry varieties. In rare cases, it may also contribute to periodontal disease.
Is it OK to vary my dog's menu with different flavors of wet food?
You can mix whatever flavors you want when it comes to serving wet dog food. The only essential component is that your dog eats it all. Some dogs are pickier eaters than others, so it is worth experimenting with different flavors and brands to see what works best.
Why does it matter whether there is grain in wet dog food?
Grains aren't inherently bad for a canine unless he or she has an allergy. They can even be a reliable source of nutrients and antioxidants, like Vitamin E and beta-carotene. The thing is, grains are not as good a nutritional source as other ingredients, which it is why grained-based wet foods are not the high watermark for nutrition.
How long does dog food last?
Most companies put an expiration date of three years on their canned foods. Small trays or containers may have expirations closer to two years. Similarly, dry foods typically last for a year and a half after the date of manufacture.
How long can I store wet dog food?
If you properly seal and refrigerate a can of wet dog food, it can last for three to four days after opening. Companies will often recommend the dog consume the food before this date. How long the food sat outside of the refrigerator and the storage conditions can impact the safety of the food.
Can I recycle dog food containers?
The answer is almost universally yes. Please make sure to clean and dry the can before putting it in the recycling bin. Every small amount of moisture can ruin recyclables, such as paper.