Best Wireless Dog Fence - Comparison and Reviews
There's something very stressy about getting a call to say your furry friend has escaped home and is on the loose. Are they safe and who are they with?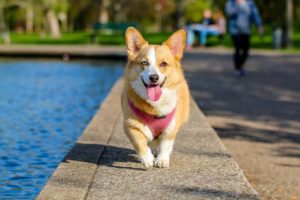 Will they get lost in the time it takes to stop what you're doing and get to them? Do they feel threatened or unsure and how will they react?
Needless to say, a good fence to help make sure they are safe while you are out is so important. There are lots of options and it's worth knowing which is the best for you and your furry pal 🐶. For example, an underground or wireless dog fence is an ideal solution for many pet owners and within a week or two, your dog should be trained on how to use it.
They can be tailored to suit your requirements and most have adjustable levels of correction to help keep them safely in the perimeter and out of harm's way 🙂.
Not sure which fence to buy? We've rounded up the top options to provide you with insight on which fence is the best for your dog.
For quick reference, here are the best wireless dog fences for 2023:
Best Wireless Dog Fence 2023 - Reviews
Best Wireless Dog Fence with Collar
PetSafe's Wireless Dog Fence is one of the highest-rated dog containment systems. The above-ground fence features a wireless base system, receiver collar, and accessories and offers up to a 1/2 acre of circular boundary coverage. It is unique in that the system won't shock your dog on re-entry.
Most wireless fences will shock your dog if he or she exits, stop once they are out of range, and then will deliver another shock when the dog attempts to come home. Naturally, you don't want to teach your dog coming back is bad, and PetSafe's no-shock re-entry feature solves this problem.
Petsafe wireless containment also features 5 levels of correction with tones that are also adjustable and helpful in training your dog.
The PetSafe wireless fence system is more expensive compared to the other options, but at least based on reviews, it's also one of the most reliable. You have the option to purchase an extra battery pack add-on to ensure you always have charged battery ready to go, too.
This wireless fence has a simple set up and does not require a wire to be buried like many other systems do. Depending on your budget, this could be the best option for you because of its credibility.
Best Invisible Dog Fence for a Large Area
The Extreme Dog Fence comes with a digital transmitter, waterproof collar receiver, various probe sizes, receiver battery, and 50 training flags. The company states that the package can cover up to 6 acres of land and comes with three antennas.
Note that this kit is an underground fence and requires you to bury the wire. Many customers have noted the wired option is more reliable compared to the fully wireless alternatives. Although it may be more reliable, it is quite labor-intensive.
Thankfully, the wire included is heavy-duty 20-gauge industrial grade, so once installed correctly, this system is unlikely to require any maintenance. Some users even have luck hanging it along a fence rather than burying it.
Extreme dog fence has the best correction systems. Each collar correction level could be programmed individually and 7 levels including a beep only. This could be helpful if you have multiple multiple dogs at your home. Any new dog could be trained easily in the fence system with its own collar.
The base kit is a one dog system, so if you needed to add another dog, you have to buy additional equipment. If you have multiple pets that you would like to add to this system, it can get quite expensive.
Pros
6 acre boundary coverage
7 adjustable levels of correction with each collar's correction strength programmed individually
1-year warranty (5 years when registered)
Waterproof and submersible collar receiver
Not affected by metal structures and interference
Heavy-duty 20-gauge wire
Cons
Must bury the wire
Expensive to add more than one pet to the system
Best Perimeter Dog Fence for Large and Small Dogs
Another option from the well-known and respected brand, PetSafe Stay & Play wireless fence is a fully wireless above-ground fence that has a simple set up. Simply configure the base system and the collar receiver, and it's ready for use. Like the other PetSafe system covered above, this system also has a no-shock re-entry feature.
While the kit itself only includes one collar, if needed, you can also add more than one pet to the system, but the collar receivers are quite expensive (upwards of $100). The receiver collar has extensive customization so you can modify it to fit for your dog.
Every pet will respond differently to the training and system, so it's nice that there is complete adjustability to the collar and receiver settings on the base.
Speaking of training, this kit includes perimeter flags and a how-to guide to getting your dog to stay within the containment area with minimal training shocks.
Pros
Very simple set up
Waterproof Collar
3/4 acre of circular boundary coverage
5 levels of adjustable correction with the sound only mode available
Trusted brand
No-shock re-entry feature
Cons
More expensive than other options
Occasional inconsistency reported by some customers
Collar battery said to last around six months
Must install the transmitter indoors
Best Cheap Wireless Dog Fence
The Blingbling Petsfun electric wireless fence is one of the most cost-effective options on this list. Although it is also one of the most basic kits available, it may be the best option for you if you're on a budget.
It has a maximum range of 300 meters (about 980 feet) and has an adjustable range. The range of this fence is substantially lower compared to the others, but that's not surprising given the price point.
The collar receiver is 100% waterproof with an IP 67 rating that ensures the collar won't be damaged by rain, mud, or whatever soggy mess your dog managed to find. The collar also contains a high capacity rechargeable battery that can fit almost any dog. The base receiver and collar use a 2.4G frequency to ensure that the signal stays stable and will not disconnect.
No products found.
Pros
100% waterproof collar receiver
300M radius
Stable 2.4G signal
Easy setup
Cons
The transmitter does not have a battery backup in case of lost power
Buildings or structures near your house may block or weaken the signal
No shock strength adjustment
The FOCUSER Electric Wireless Fence is another cost-effective option. The company offers a 100% satisfaction guarantee and provides support with the fence if you have any troubles with it.
The wireless boundary of the radius is up to 1,640 feet (500 meters) and has a simple set up process. With the range being almost double compared to other products around the same price, this could potentially be the best wireless dog fence for large yards. The wireless boundary can also be adjusted down to about 82 feet (25 meters) if desired.
The collar receiver is completely waterproof with an IP67 industrial rating which will protect the collar from any rain or water in general. It has a rechargeable, built-in durable battery with low power consumption to get the most out of each charge, too.
Focuser has multiple corrections when dog approaches the wireless fence boundary. Dog gets correction warning in the form of tones and the correction strength is automatically increased when dog tries to move out of the fence boundary. This is a unique feature in Focuser which is not present in other wireless fence products.
This system is suitable for large and small dogs of all sizes and the collars are adjustable between 8 and 21 inches.
No products found.
Pros
Unique multiple correction level warnings for dog
Best for large yards
Affordable price
Waterproof collar with an IP67 Rating
Satisfaction guarantee from the company
Massive range
Cons
Only one dog per system
Some customers report the range given isn't accurate
Metal structures can cause interference
The SportDOG Brand In-Ground Fence can cover up to 1 1/3 acres of land but the boundary can be expanded with more wire to cover a 100 acre area. Of course, since the wire does have to be buried in-ground, it does take more work to install compared to a fully wireless system. The setup process for the whole kit is relatively simple once you have buried the wire—just install the transmitter and pair the collar.
The transmitter has a wire break alarm and features a built-in lightning protector that many other products do not include. The manufacturer of this kit also offers a two-year warranty and has a customer care center to provide support for the product and answer any questions you would have.
The collars are available in either a 9V-battery version or lithium-ion rechargeable with a two-hour quick-charge feature. They will fit dogs 10 pounds and up and have four shock levels and vibration and sound-alerts to let your dog know it's time to turn around.
Pros
4 levels of static correction near the fence boundary
Easy to install the transmitter
Two-year manufacturer warranty
Covers 1 1/3 acres of land
Cons
On the high end of the average prices of similar products
Some customers received faulty wires
Installing the wire in-ground could be strenuous for some people
The Sit Boo-Boo Hidden Dog Fence is an in-ground dog fence consisting of the collar receiver, copper wire, and transmitter. The copper boundary wire can be hidden along the edges of your yard, or it can be buried entirely around the perimeter you set. Since the wire is made of solid copper, it is stronger and creates a better signal as copper is highly conductive.
The 955 feet of copper wire included is sufficient to enclose 1.2 acres of land. The kit provides an excess of wire so that you can adjust the length as needed for your desired space. Since the transmitter in the kit can reach ranges of up to 5 acres, you can add wire in the future if need be.
This kit includes one collar, but additional collars can be purchased separately. There is no limit on how many collars you can have on the system. The collars, like most of this product type, are waterproof. Sit Boo-Boo also offers an impressive lifetime warranty for manufacturer-related defects.
The Sit Boo-Boo Electric Fence Advanced comes in well below average price-wise and includes 500 feet of industrial-grade copper wire, one collar receiver, training flags, and transmitter. With the purchase of additional wire, the coverage can be expanded to over 15 acres, and additional collars can be purchased separately.
The receiver is completely waterproof with an IPV7 rating and can be submerged in water up to 3 feet. This ensures the collar will not be damaged during regular use, and your dog will be safe. It also features seven correction levels allowing you to control how much corrective shock is delivered if your dog leaves the containment area.
The best thing about Sit Boo-Boo advanced electric fence is that it comes with 3 levels of correction modes – tone, vibration and static. The correction level is auto-adjusted based on the dog's proximity from the fence boundary. The advantage of it is that a trained dog be alerted based on the beep or vibration. Whereas non-trained dog will get high-intensity correction when it tries to cross the fence boundary.
The option to buy an additional training remote is a nice bonus. It works with the fence's shock collar and can be used as an additional training step between on-leash and free-roam. Fences such as this will stop shocking the dog shortly after exiting the perimeter. The training remote allows you to continue correcting beeps, buzzing, or shocks until your dog returns.
The company offers a one-year replacement warranty, too.
PetSafe's Stubborn Dog Fence is specially designed to help train obstinate dogs who refuse to stay put. This kit does not include any wire, so you will have to purchase your own wire separately. If you already have a wire boundary installed, then this is a great option.
The collar included with this kit is waterproof and has five different settings to adjust the shock level delivered as well as a vibration setting to alert your dog he or she is close to the perimeter. This kit is not recommended for small dogs as it is designed to deliver a strong shock for stubborn dogs, though the collar is adjustable for neck sizes between 6 and 29 inches.
Another unique attribute of this option is that unlike all the other fences reviewed here if your dog leaves the fenced area, the collar will continue to shock the dog until he or she returns. This is designed to prevent your dog from running through the shock line, bearing the shock for a moment, and having a good ole time going wherever they please thereafter.
OKPET is a lesser-known brand, but that also means you're not paying a high brand-name price. This wireless system has an impressive coverage range with a 10 to 1,000 feet radius (72 acres). You can easily adjust the containment area with a convenient dial on the transmitter.
The receiver collar is also adjustable from 4 to 21 inches to fit a variety of dog breeds and sizes. This kit comes with two collars. Both are rechargeable, waterproof, and feature a low battery indicator to avoid accidental dead-battery situations.
The kit also includes training flags and a tester tool to determine where the containment line is and help your dog learn where the perimeter is located. The collar will also beep before delivering any shock to give your dog time to return to the safe zone.
No products found.
Pros
Massive adjustable coverage area
Rechargeable, waterproof receiver collar
Low battery indicator
Company follows strict quality control policies
Cons
Range can suffer from interference
Prone to dead zones that can shock your dog unexpectedly
How to Choose the Best Wireless Fence for Your Dog
There are many factors to consider when choosing a wireless fence for your dog. Some of the key things to think about are price, function, and company reputation. There is a wireless fence for every customer, but you need to be sure it completely fits your needs.
Price can be one of the most significant determining factors for most people. You want to get a quality and safe wireless dog fence, but you need to be sure that it's not emptying your wallet in the process. To determine what price range you will be spending at, you need to know how much land coverage you require and how many dogs the system will accommodate.
Once you've figured out the price range you're aiming for, you need to find the right fence for your dog and land. Some wireless dog fences are specifically for larger dogs, but some can be adjusted for any size or weight. This may be a factor of more than just the size and adjustability of the shock collar. The strength of the shock delivered should also be considered. An adjustable-level collar is preferred.
What Things to Consider When Buying an Invisible Electric Dog Fence
Coverage Area
The coverage area is a significant factor to consider when buying an electric dog fence. Generally, in smaller yards, wireless systems are most effective, while for large coverage areas, underground wired fences are ideal. Of course, enclosing a large area will also increase the amount of wire required—and the work required to install it. Carefully consider just how much yard your dog needs.
Dog Size
The size of your dog does matter and could be a determining factor when buying an electric dog fence. As mentioned, some kits are only rated for use with large dogs, and the shock could be too powerful for a small dog if the system is not adjustable.
In-Ground vs. Portable Wireless Fence
There are some significant differences between in-ground and portable wireless fences. Depending on the size of land you need to cover, one option might be heavily favored. Portable wireless fences are great if you don't need to contain a large boundary, and are good for purposes like camping or if you keep your dog at multiple locations.
Flat, mostly clear land works best for wireless systems as trees, hills, and especially metal objects, such as sheds vehicles, or trailers, can interrupt the signal and cause dead spots or boundary fluctuations. Metal roofing can also cause issues for some systems. In-ground fences don't have this issue, but then you have to consider the process of burying the line around the perimeter.
Containment in Customized Areas
If you require a customized area for your invisible fence, it may be hard to achieve that with a wireless fence as they tend to have a set shape—usually a circle or wedge shape. With a wired kit, you can run the wire entirely around your specific area with precision.
Ease of Installation
Some wireless kits only require minimal installation which includes setting the boundary and pairing the receiver with the transmitter. Alternatively, some wired kits can be strenuous to install and require you to dig a trench for the wire and manually install it.
Keep in mind that some wired "unground" fences can be installed above ground. This is often achieved by either attaching the wire to a fence or securing it to areas without traffic (so not across driveways or walkways) with landscaping staples. The latter option does increase the chances of wire damage, however.
Depending on your land size and whether your system is wireless or wired, it can be a straightforward installation or a large project.
Number of Dog Collars in the Fence System
Most invisible dog fence systems only include one collar with the kit, and you are required to purchase extra collars separately. Many kits can support unlimited dogs on the system, so this aspect is more a cost consideration.
FAQs
How much is a wireless pet fence?
On average, a quality wireless pet fence will cost you about $150 to $250 for a full system kit with one dog included. If you want to add an extra dog to the system, it could be up to $100 per dog along with the retail price. If you are looking at a wired system, the area you wish to enclose—and so how much wire you'll need—is also a factor.
Are wireless dog fences safe?
One of the most commonly asked questions is if wireless dog fences are safe. It's an understandable question as we care about the safety of our pets. If you get the right fence for the size of your dog and adjust it, they are entirely safe!
Most wireless dog fences use a vibration stimulus and an audible warning prior to delivering a shock, and the shock itself is not powerful enough to cause harm. You can rest assured that it is just part of the training for your dog to learn its boundaries at the edge of the fence. It's one of the training aids similar to training leash, collar or a dog whistle. Find the Best Dog Training Leash here for your pup.
Can a wireless dog fence work on a sloped yard?
It is common for wireless dog fences to have problems working on sloped yards as the uneven plane can interfere with the signal from the transmitter. It's a safer option to go with a wired kit if you think this might be a problem for you.
Since a wire can follow the curve of the slope, it's a lot more reliable compared to a wireless system in that case. Most times, it's not worth the hassle of trying to get a wireless system to work on a sloped yard in the first place.
What if I already have wire installed?
If you already have wire installed, it seems like a waste of money to buy a kit that already includes cable. Some kits do not include wire but still have a transmitter and receiver collar. Some brands also offer replacement transmitters and receivers for just such situations.
Are collar receivers waterproof?
Most if not all, collar receivers are waterproof since your dog will likely come into contact with water, being outside. They are made to be waterproof to extend the life of the collar and for the safety of your dog.
How long can a dog be trained with an electric fence?
On average, it takes most dogs about 1-4 weeks to be fully trained to learn the boundaries of the invisible fence. Depending on how fast your dog learns, this could take longer or shorter. After training, your dog should be able to play and roam outside without supervision.
Are the fence systems adjustable?
Most wireless transmitters have many adjustable options, such as the range covered, and the level of the shock delivered. Every dog is different based on size, weight, and breed, so there are usually options that allow you to adjust it to your dog precisely. Your dog's safety is the top priority when using a wireless dog fence, and most manufacturers take that into account when designing their products.
Some collars may even offer a vibration or beep-only option if you are averse to the idea of shocking your dog. However, this is typically less effective once the dog learns the beep has no consequence.